Pickled vegetables with a kick!
Ingredients
2 medium onions

1 large bell pepper

1 small spicy chili pepper

1 small cucumber

6 cloves garlic

1 large bottle vinegar (16 ounces)

1 tablespoon salt
Directions
Clean a large glass mason jar by boiling it.

Chop the vegetables to the size of your choice.

Dry the vegetables, either by leaving uncovered in the fridge, squeezing, or cooking lightly.

Now, fill up the jar!

Add enough vinegar to cover the vegetables completely.

Seal and let it sit for a day or two in the fridge before tasting.

Eat as a side dish or on top of Gallo Pinto!

#sidedish #vegan #vegetarian #glutenfree
Recipe submitted by Alex Douglas - Peace Corps Volunteer, Costa Rica (2010-2012)
Photo courtesy of Peace Corps Costa Rica staff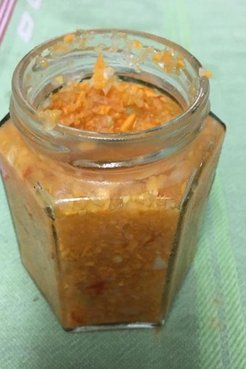 Help us understand our audience
If you are in the U.S., please enter your five-digit zip code to help us better understand who uses our resources for educators.