A delicate scone with no jam or cream required.
Ingredients
3 1/3 cups flour
1 1/2 teaspoons baking powder
1 tablespoon vanilla extract or lemon zest
1 cup white granulated sugar
9 tablespoons cold butter
1 cup cold full cream milk
1 extra large egg
Directions
In a large bowl cream the butter with the sugar.
Beat in the eggs.
Mix in milk.
Add the zest of one lemon or add splash of vanilla extract to the mix.
In a separate bowl, combine the flour with the baking powder.
On a lightly floured surface, knead the flour mixture into the creamed mixture with hands until elastic.
Add up to two cups of flour more to achieve desired consistency.
Press dough flat with dusting of flour (1/4 inch thick).
Cut dough in circles, using the rim of a glass or cookie cutter.
Place circles on a greased baking tray sprinkled with a little flour.
Bake at 350 degrees F for 10 minutes or until golden brown.
Transfer to a cooling rack.

#dessert #snack
Recipe and photo submitted by Katherine Helmick - Peace Corps Volunteer, South Africa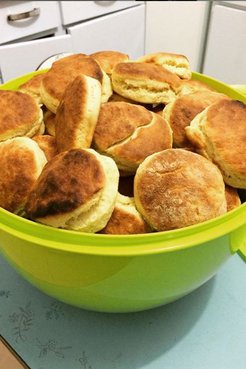 Help us understand our audience
If you are in the U.S., please enter your five-digit zip code to help us better understand who uses our resources for educators.