A personal essay about day-to-day life for Mary, a girl from the Hinterland River Community in Guyana.
By Mary from Guyana

Hi, my name is Mary! I wake up to my mom in the next room yawning and getting out of bed. I hear my sisters stir next to me in the bed that we share. We sleep under a mosquito net to protect us from the mosquitoes. It's 5:30 and the sky is starting to get light with the first rays of dawn. I shake my sisters awake, and head to the kitchen to help my mom prepare the meals for the day. I'm excited because I see that my mom is preparing float bake (fried dough, like a donut, without icing) and salt fish for breakfast! I help finish cooking breakfast and see that it's already 6:30am! 
I grab my soap, towel, toothbrush and toothpaste and head to the river to bathe. I grab my sisters and we go jump in the river together. After bathing, I change into my school uniform of a blouse and a skirt (it's my favorite colors: green and white), and head back to the kitchen to say bye to mom. My dad has been deep in the jungle for the past three weeks because he is searching for gold as a miner.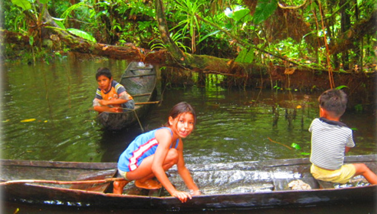 I get into my coreal (dug-out canoe), with my sister and we paddle 30 minutes down the river towards school. Once we reach the boat stelling (dock), we tie up our coreal and walk another 30 minutes and reach school just before the bell at 8:45. School goes from 9 to 3 and I'm happy because today I have my favorite subject: integrated science. I want to be a nurse when I grow up, so I know that integrated science will be very important for that. During lunch, I go to the shop and buy some channa (garbanzo beans), dhal puri (split pea tortilla), and passion fruit juice. After finishing it, I go to the ball field and play some cricket and football with my friends and watch the boys play too. 
At 3, my friends and I meet up to practice dancing for Amerindian Heritage Month. We're going to be doing the Arawak traditional matapee and mari-mari dance. We are going to dress up in traditional tibisiri skirts (made of stripped palm branches) and headbands, so we spend some time making it with our mothers. We put on the matapee song on my friend's phone and practice for an hour.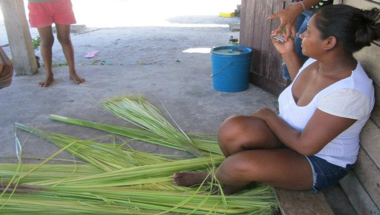 After practice, it's 4:30 so mom and I head home and start cooking some dinner. We are cooking katakuru (cassava water stew) and smoked fish with cassava bread: my sister's favorite. My sister and I rotate helping mom in the kitchen, watching our eight-month old sister, sweeping the house with our broom made of palm branches, and doing our laundry by hand. After we finish cooking, eating, and doing all our chores, it's 7:30 and we head to church where I get to play the guitar for worship. We sing and have service and by the time it's over, its 9! We head home and to bed.
This personal essay was developed as part of the Girl Child Project. For the project, Peace Corps Volunteers around the world collected and shared stories of girls in their communities to celebrate their diverse paths toward opportunity and success. This project was facilitated by the Gender Equality and Women's Empowerment Working Group at Peace Corps Headquarters.
Help us understand our audience
If you are in the U.S., please enter your five-digit zip code to help us better understand who uses our resources for educators.