A personal essay about day-to-day life for Marlana, a girl from the Hinterland Savannah region of Guyana.
By Marlana from Guyana
Welcome to the Savannah! My name is Marlana. The savannah is very different from other parts of Guyana because it is more dry and sandy and has grass and shrubs instead of tall green trees . We don't have electricity unless someone has a solar panel, where they can get electricity from the sun.  I live in an Amerindian village of the Padamona tribe. There are several different types of Amerindian tribes, but the Padamonas are the ones that settled here.  At around 4:30 AM and I am just getting out of bed for the day.  It is still dark and cool, but I wake up early so I can get all of my chores done before school.  My sister and I walk 20 minutes towards the river to go bathe. The water is cold, but it helps to wake me up. I bring a bar of soap and a bucket to bring back some of the water to my house.  My sister and I help sweep out our house. We have a dirt floor and the walls are made of mud bricks that are dried in the hot sun.  In the corner of our house, my mom has the fire going to boil some water to make tea. We eat a bit of cassava bread with some jam. This is bread made from a potato-like vegetable called cassava.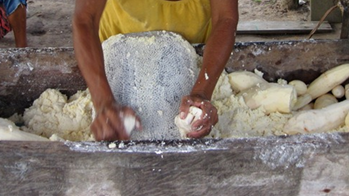 My sister and I put on our school uniforms and head out for school. It takes us 40 minutes to walk to school. We follow a dirt path that goes up and down some steep hills. We see some of our friends along the way and they come and join us. I walk most places around my village. On the weekends, my sister, mom and I normally walk 2 hours out to our cassava and yam farms. We work all weekend on the farm and carry back huge yams, which are almost as big as my baby brother! There are no food markets out here; just a shop or two and they sell very few greens. Most of them are very expensive. I eat a lunch of rice and bora (a long green bean) at school with my friends.  
After school some of the students are practicing their dance for our Heritage Day. The month of September is Amerindian Heritage Month in Guyana and each Amerindian village has a festival and sometimes a few people will go all the way out to the capital city to perform. I watch them dance Faha, a two-step partner dance. After a while I decide to walk home. In my free time after school I like to play the guitar and accordion. I participate in church and really enjoy listening to music. I listen to Brazilian music sometimes when we can get it on the radio. I also enjoy playing football (soccer) but only get to play once or twice a week. When it is really hot, my friends and I will go to the river and swim to cool off.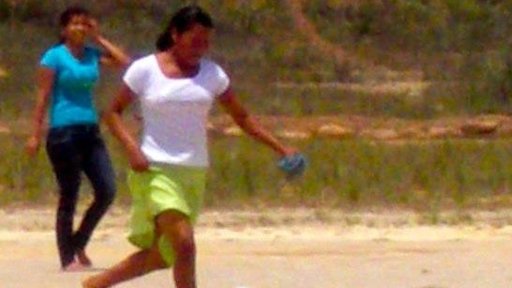 The savannah is a beautiful place. There is a lot of wildlife all around us all the time. There are plenty of dogs, cows, and goats in the village. Many people raise chickens and use donkeys, horses, and ox to pull carts around the village. We don't have any cars but some people do have motorbikes and ATVs. We are a small village but we work very hard and like to come together as a community for any type of celebration. If you ever come and visit, we would offer you a nice big bowl of casseri, a drink made from cassava!
The sun is starting to set over the mountains, which means it is almost time for bed. My mom warms up some Touma pot on the fire (a stew made with meat and some vegetables) and I eat it talking with my family about my day. We normally speak in Padamona, but I do know a lot of English as well. I make up my bed and pull down my mosquito net. I fall asleep to the sounds of crickets chirping and my mom and dad whispering in candle light.
This personal essay was developed as part of the Girl Child Project. For the project, Peace Corps Volunteers around the world collected and shared stories of girls in their communities to celebrate their diverse paths toward opportunity and success. This project was facilitated by the Gender Equality and Women's Empowerment Working Group at Peace Corps Headquarters.

Help us understand our audience
If you are in the U.S., please enter your five-digit zip code to help us better understand who uses our resources for educators.