A personal essay about day-to-day life for Devi, a girl from the eastern coastal region of Guyana.
By Devi from Guyana
Hello my name is Devi. I am a 15 year old girl living on the coast on the Eastern part of Guyana closer to another country called Suriname.
I awake just before the sun rises to the sounds of roosters crowing and the bike horn of a local fish seller. I bathe using water we pump into a big black tank.  Water does not run from the pipes all the time so we have to store it when it is running. I have breakfast which is usually some fried plantains, bread, and some Milo (chocolate milk) then begin my morning chores. I wash clothes, wares (dishes), and sweep out the kitchen. I also help my mother cook lunch for the family. My favorite dishes to cook are fried rice and cook-up (rice with coconut milk, meat, and beans).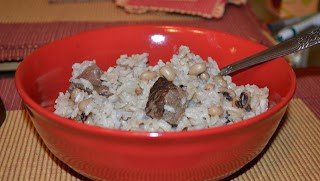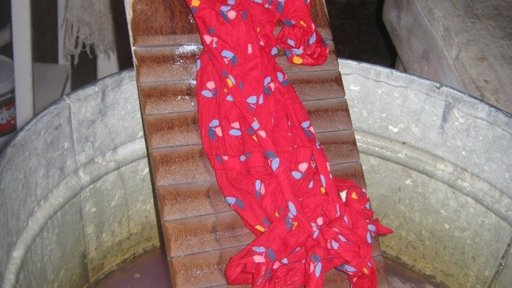 After I help my mother get my 3 brothers and little sister ready for school, I put on my school uniform which is a white shirt, grey skirt, and belt. I look nice and off to school I go. My friends and I walk 15 minutes down the road to the Secondary School (similar to grades 7-12 in America). There are 30 students in my class and English is the spoken language, though Creole, is widely spoken amongst students and teachers. My favorite subject is English but we also take Math, Science, Social Studies, Reading, and Spanish. I like English because it is helping me improve my knowledge of the English language.
Since I live close to school I walk home for lunch and eat with the rest of my family. Today's lunch was Chow Mein (long noodles, soy sauce, hot dogs, carrots, and green beans) which is not my favorite, but my brothers really enjoy this dish. We always have Chow Mein towards the end of the week because market day is on Saturday.  It is a bit harder to buy greens (vegetables) on other days of the week. After cleaning up after lunch it's back to school I go. I finish up with the rest of my classes and then hang around to gaff (talk) with my friends. Once I walk home from school I change into my play clothes which are either shorts or a casual dress. I spend some time in my room listening to music while doing my homework.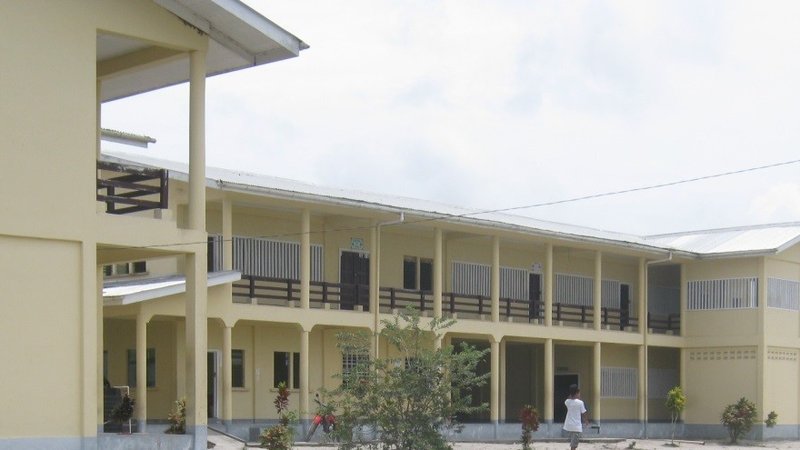 I like to listen to all different kinds of music such as Soca, Chutney, Reggie, and Soul. My favorite type of music is Soca. Sometimes I dance around my room and sing really loudly, my whole family can hear me because none of the walls are too thick.   I am also learning to play the guitar. My best friend knows how to play so she has been teaching me. Once I finish my school work I either watch an Indian movie on TV or play cricket outside with my friends. I also enjoy playing football (soccer). Luckily for my siblings and me, my mom stays home from work and helps take care of us. Lots of women in the community do the same thing or they are teachers, nurses, or health workers. Some are shop owners or bank managers. When I grow up I want to be a teacher just like my aunt. She is a wonderful Grade 6 teacher and someone I look up to. I want to be a teacher so that I can help students to learn and achieve what they want to in life. Sometime my Aunt lets me help her plan lessons so I am getting some practice. After I finish Secondary School I want to attend the Teachers College so I will be able to be a teacher.  Maybe one day I will be able to go to the University of Guyana and get another degree but for now I just want to get to the Teacher's College so I can hopefully teach Primary School children. Back to studying for me so I can get good marks in school. After I finish studying I will have fried rice for dinner and help clean up from the day. I will take another bucket bath before I go to bed. If I am not too tired I will watch some Indian Soap Operas with my family and then read a little before tucking myself into my mosquito net for the night. As the moon rises and all the night creatures come to life like the geckos that crawl on my walls, I think about my family and friends and hope for pleasant dreams.
This personal essay was developed as part of the Girl Child Project. For the project, Peace Corps Volunteers around the world collected and shared stories of girls in their communities to celebrate their diverse paths toward opportunity and success. This project was facilitated by the Gender Equality and Women's Empowerment Working Group at Peace Corps Headquarters.

Help us understand our audience
If you are in the U.S., please enter your five-digit zip code to help us better understand who uses our resources for educators.