Restaurant Owner Feeds Volunteers' Growing Interest in Community Gardens
Each year Peace Corps Costa Rica welcomes new Volunteers from across the U. S. to respond to requests for assistance with English teaching, community economic development, and helping youth garner the skills to make better decisions. But with the crop of new Volunteers who arrived in 2016, the organization has added a way for those in training to really get their hands dirty. Beginning in April, trainees have been discovering the benefits and how-to of organic gardening. 
Dan Harris, owner of Riverside Pizzeria and Gastro Pub located in Santa Elena, served as the source for a half-day workshop that began with a tour of his restaurant's on-site garden and will be followed by weekly hands-on opportunities throughout April and May.  Investing in Volunteers who will spread a vision of sustainable, healthy practices across Costa Rica, comes naturally to Harris. The son of Peter Harris, former Deputy Director of Peace Corps Costa Rica in the 1970s, he has both a heart for his adopted homeland of Costa Rica and a belief in the values of the U.S.-based agency.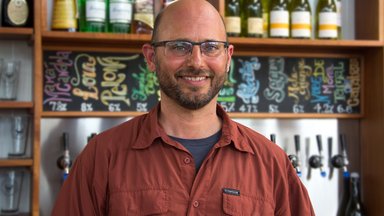 Harris spent much of his career (prior to building the restaurant that was opened in 2015) addressing land sustainability. Even in the early stages, he knew he was investing in more than pizza and beer. He began with a clear vision of what he wanted the transformation of a once popular disco, but for many years just a burned out shell on the Route 32, to be. The Heredia resident envisioned a farm-to-table experience utilizing fresh Costa Rican-produced goods. As a result, the tables and wood accents are crafted from logs from Guanacaste, menu items are inspired by local substitutes such as pejibaye for garbanzo beans in hummus, and the herbs and salad ingredients are grown directly on the restaurant property.   
During the training, Harris shared his thoughts on sustainability. "My theory is to try not to work against nature, to focus on things that work where you are," he said. 

The idea of combining gardening with English teaching originated after the prior group of Peace Corps Volunteers included many who were assigned to indigenous regions. After arriving to assist with English classes and local cooperatives, etc. some found that food options were limited to beans and rice on the shelves of the local general store (commonly referred to as "pulperia"). Others saw abandoned community gardens and simply lacked the know-how to be as proactive as they wished to be. 

A visit to one of those indigenous sites followed by a stop at Riverside planted the seed of an idea in Karen Campbell, a Peace Corps Volunteer who has a long history of training in her background. 

"As soon as I saw Riverside's garden and heard Dan explain his philosophy of supporting local farmers and using sustainable methods for growing the incredible food that his chef and partner Gilad Chudler delivers, I knew we had a great interactive learning opportunity," noted Campbell. "Dan was receptive from the beginning and, of course, Peace Corps staff is always supportive of means to help achieve the Peace Corps mission."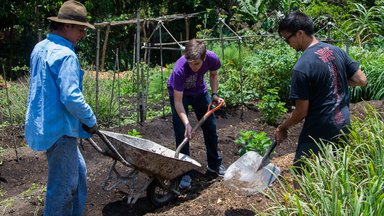 The day long workshop and ongoing hands-on gardening opportunities are complemented with several conversational English lesson plans that Campbell wrote. 
If the pilot goes well, the plan is to expand the workshops to 2-3 times per year and allow Volunteers in every province of Costa Rica to discover information such as:

• Costa Rican agricultural practices
• How Riverside provides farm to table organic offerings by working with local producers as well as composting and growing many of the ingredients they use on their menu
• Best practices learned from sources in biointensive and organic gardening
"Peace Corps Costa Rica depends on partnerships with local schools, community development associations and individuals like Dan who have a vision for a healthier and stronger Costa Rica. We are grateful for his investment in our Volunteers so that they, in turn, can invest in sustainable ways where they serve," said Erik Winkler, TEFL Program Manager for Peace Corps Costa Rica.