Rain or Shine, the Game Goes On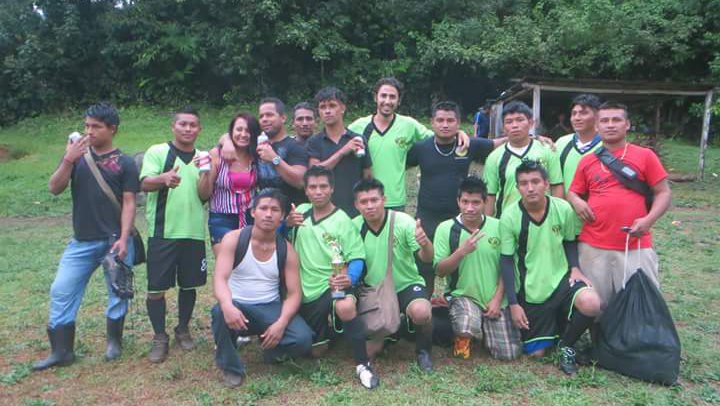 July 26, 2021
During this season of Olympic Games we reflect on the positive impact of sport. Joel, a PCV serving in the southern most region of Costa Rica from 2015-2017 shares how he bonded with his community over football.
"MEJENGA MEJENGA!" someone shouts from the field, situated slightly below the rest of town. "MEJENGA!" The response from a cleat clad companion on his way to join his friend at the field. These are the daily calls to worship in the town's local religion of football (soccer).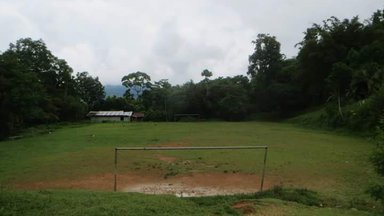 When I came to this small indigenous village nestled in the relatively inaccessible foothills near the border with Panama, I heard they had a football team. I watched them practice and asked if I could play. They said, "OK- there is a game tomorrow." I went, with not the slightest clue of what to expect. Yes, I had played soccer all my life until college, where injuries began to slow me down. More recently I was on a several year hiatus due to fear of injury. I had brought my high school cleats with me because I had a hunch soccer would be important in Costa Rica, regardless of the community I was assigned to. I couldn't have been more correct in my assumption. That first game they had me part of the starting XI, which I attributed to the fact that I had cleats, as opposed to sneakers or rubber boots like many others on the team. When I got out there I ran like crazy to make a positive impression. We tied the game and lost in penalty kicks. In reality we both came out winners. I was adopted into the community through football and the team got a new player with half-decent skills.
A bit more about my town and "bola", as it's called here. The town has one plaza, which, although it is not the geographical center of town, or even close to being the geographical center, it is nonetheless the center of town. We have two men's teams and one women's team. Practices take place on Tuesdays and Thursdays, weather permitting. And "mejengas", or pick-up games, are on Wednesdays, Fridays, and any weekend day that's available. Mejengas are truly an experience. Sometimes with as few as eight per side, sometimes as many as 16, it's quite simply a beautiful chaos as no one wears anything to signal which team they are on for the day. We just know each other so well that after the random sorting, you can easily remember who is going in which direction. My house is about 300 meters away from the plaza, and when I'm not down there playing in the mejenga, I can easily hear the shouts of joy and laughter from my friends. And during the school hours everyday, I hear the constant kick of a ball as the school children play the only game they have.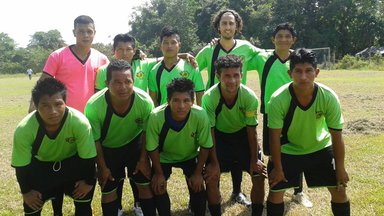 My village is a town of few economic generating activities. As an indigenous community, few people have formal jobs outside of the agriculture sector so saving up for a soccer ball can take some time. Tournaments, called "campeontatos" lasting many weeks, or the local Domingo Deportivo, can be costly for people with little income. The transportation in and out of our town (we have no access to public transportation for 10km), and the tournament fees are a burden, and often leave the team with little money for training equipment or balls. Practices are usually run with just two balls, meaning many players aren't getting a lot of touches and skills practice. That may not seem like that big an issue, but when people see football as a possible way to improve their lives (and maybe even income), it matters. But the tournaments- rain or shine, lightning or thunder, the game must go on!
Usually, upon greeting a teammate in town the first question is eagerly, "Are you going to play this weekend?" My nickname in town is even football related. They call me Joel Campbell (one of Costa Rica's elite players), I assume more so because my first name is Joel rather than any skills comparison to the country's internationally known striker. And one of the first questions you may get asked upon meeting people in town: Liga or Saprissa (two of Costa Rica's premier legacy teams)? Without football, this town would lose so much of its joy joy. Football gives a purpose to a life which can often be difficult.