Business-based Volunteer Helps Guide Students to National Recognition
Community Economic Development Volunteer Jessica had never written a business plan but her guidance helped garner national attention for students' product concept. 
If you find my community mentioned in any travel books about Costa Rica, they tell you it's a transit stop on your way to rugged beauty of the Osa Peninsula, but nothing special found here. Yet I have come to discover the true gems of this town, and now am working to help others see the value and worth in this place.  
The town is still very connected to the nature that surrounds it. Economically, most people either work in eco-tourism, agriculture or fishing. These job descriptions vary greatly, yet the townspeople are interacting with the various ecosystems everyday. Being surrounded by nature is not something that the Costa Ricans see only as a means of making a living either. It is imbedded in the food they eat, how they pass their time, and their cultural norms. It is common for friends to stop by the house, bearing gifts of tropical fruits that they grow and harvest right in their own garden. Most afternoons, cafecito (mid-day coffee break) is taken outside where you can watch Red Scarlet Macaws eat from almond trees, and hear howler monkeys on the other side of the river. 
Yet within this pura vida lifestyle, my community still deals with great challenges. It is the poorest in the region. There is little job opportunity that offers professional growth and a path out of poverty, and there are a growing number of other societal problems that many small, poor towns face.  As a Community and Economic Development (CED) Volunteer, my role is to look for the resources and assets this community has, and help people harness them. Sometimes this is challenging work, when conversations dwell on the problems that surround them daily. 
So despite this reality, I have come to find that the future of the community rests in the youth that live here. I know that is cliché, but it is what drives my work and shapes my goals as a CED Volunteer. Upon leaving school, the youth are given three options, the back-breaking work of harvesting palm, maybe find a job working in tourism close by, or leave town -- usually without a high school diploma. But luckily, the community envisions something greater for them. Everyday a new person is sharing an idea with me about how to help the youth find their own way and carve out a life for themselves, here, where their family and homes are. 
This has manifested itself in many different ways. I have gotten to teach English, which is a huge job skill in Costa Rica, and helped with recycling projects, just to name a few. Yet the most exciting opportunity I have been given is working with the budding youth entrepreneurship programs the high school has.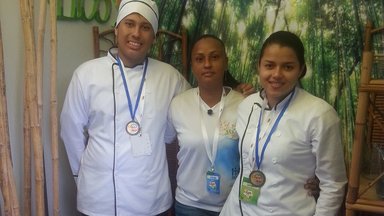 Right when I arrived a project was presented to me to work with a group of high schoolers in helping them develop a product and business plan for a national entrepreneurship competition called ExpoJovem. The principal and teacher of the high school leading the group had the time and the resources; the selected group of students had an innovative idea to create a line of products using locally produced bamboo.  What they lacked were some of the technical knowledge needed to teach business concepts, and the process of how to write a business plan. The group had six months to physically create a product and finish the business plan before they presented in the capital city for the national competition. 
Although I studied business in college, I had never written a business plan before. But part of being a Peace Corps Volunteer is stepping out of your comfort zone, taking the resources you are given, and making it work.  I took all of the manuals and information the high school teacher had been given, and began to work through it, breaking down the concepts so that the students could understand. Teaching the concepts of net present value and cash flow to students who were still going through Algebra was no easy feat. After going over concepts, I would usually break them up into pairs to work on different parts of the business plan, and we would go over their work at the end of the session to make sure everyone was in agreement with what had been written. 
In October two of the five students went to San Jose for the National ExpoJovem Competition. The group was competing against technical high schools that were much more prepared, who had finance and accounting teachers, and students who had already participated in entrepreneurship courses. Yet despite these obstacles, the hard work and innovation of these students paid off. Their project was awarded an Honorable Mention during the awards ceremony, and they were pictured in the local newspaper that covered the competition. 
This program wasn't just about teaching business concepts to high school students; it became an experience much greater than that. The students got to leave their comfort zone, meet other students from around the country, exchange ideas, and see what professional opportunities are out there waiting for them. The most rewarding part of this experience was the quality time I was able to have with these high schoolers. I got to hear their hopes, ideas for the future, and share more about myself and why I was in Costa Rica and with them.  As the new school year commences, I am working closely with the teachers to train them in entrepreneurship concepts, so that these opportunities do not diminish once my service ends. My work as a CED Volunteer is always evolving, but the students of my community will always be my priority.