Parenting Workshop Provides Positive Step in Youth Development
When I finished graduate school and entered the workforce as a counselor, I did not know which area of expertise and focus I would go into.  I thought I wanted to work with at-risk teenagers.  What I found after some time, however, is that the real work and real change in youth can be made ...
... by working with the parents.  And what a joy it was to bring strategies to parents, walk them through the steps, and witness them make the difference themselves! 
I consider myself lucky to have been able to work with parents during my service in Costa Rica.  One such project is a parenting workshop that I organized in partnership with a local social service agency and other PCVs who helped manage the sessions. The social workers selected and invited parents from the families already on their caseloads.  An added measure of sustainability is that the social workers who attended the workshop learned the strategies as well, and are now able to pass on the same techniques to future parents.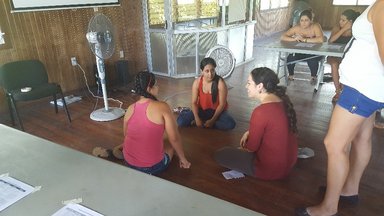 We were given complete freedom to design each detail of the workshop.  Fellow PCV Lucy and I decided upon five sessions of Positive Discipline and limited the class to no more than 15 parents to give each case more personal attention.  In the first three sessions, the parents learned not to look at discipline as a way of punishing, but instead to see that discipline is teaching your child how to live and behave.  Instead of focusing on what the child should not do, the parents began to focus on teaching their children the correct behavior.  This is a seemingly simple concept but is difficult to put into practice, as my parents learned, because of the very easy tendency to constantly correct children: "don't do that", "stop that", "no running", "no screaming".  In the last two sessions, we focused on strategies to engage with their children in play to build the parent-child relationship and raise the self-esteem of the child.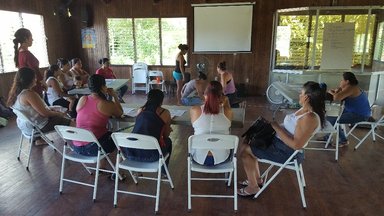 Our sessions involved fun icebreakers, engaging videos, and—most importantly—the opportunity to practice the strategies through role-plays of their real-life parenting moments.  The parents were hesitant at first to share their parenting struggles but soon learned, in our safe space, that it is completely normal for parents to have different struggles with discipline and that anyone can benefit from learning a new way to create peace and structure within the family.
Each session involved the parents learning about and choosing a specific strategy to take home and practice before the next session. All parents who did the homework and practiced the strategy in their home reported seeing the benefits.  Several mothers shared that they immediately saw change with just the practice of avoiding saying, "No," to their children and instead giving their children specific instructions on the positive behavior they wanted.   By doing this, they found that their children were less likely to be argumentative and push back.  Other parents found a lot of success with giving their children options instead of simply telling them what to do and ending up in a power struggle.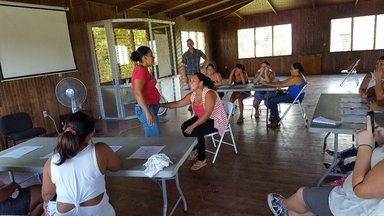 During the last two sessions that focused on engaging with children in play, we sat down on blankets on the floor and parents were given specific phrases or actions to use while their children played with toys.  Most of the parents shared that this was the first time they had sat down and played with their children, let alone practiced strategies like reflecting what the child is saying or describing what the child is doing.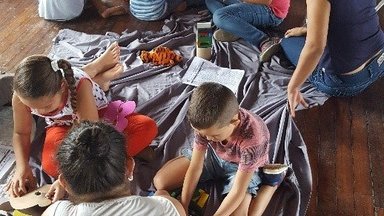 The  idea of how to engage with children was transformed. Instead of the usual comments such as "Why are you building a tower?", which could influence insecurity in the child, the parent practiced saying "You are putting the blocks on top of each other to build a tower." Parents were taught that this technique shows the child that the parent is interested in what they are doing and not judging their actions.  At the end of these play sessions, parents were able to see an immediate change in their children.  The children were happier, more in sync with their parents, and more willing to comply with instructions.  Parents learned that if they continued using these strategies, a peace and understanding would form between parent and child and they would learn to communicate with each other more effectively.  That is the magic of positive discipline!