Jumping to New Heights at JumpStart English Camp
Summer vacation means three months when many Peace Corps Volunteers are out of the classroom and responsible for finding their own projects within their communities. It can be daunting, but PCVs find ways to make a difference and build connections. Youth Development Volunteer Kerri organized and personalized a JumpStart Camp for her community in northern Costa Rica this year.
The JumpStart Camp in my community was born out of my fear of having three months of school vacation, therefore giving me far too much time on my hands! I was looking for creative ways to keep myself and the youth of the community busy during the school vacation, when I got an email from the TEFL (Teaching English as a Foreign Language) program stating that they were accepting applications for the JumpStart Camp Program. Although, I am a YD (Youth Development) Volunteer, this JumpStart English Camp was accepting applications from all Volunteers. 
JumpStart is a month long English-language camp targeted at 6th graders with low language skills. The goal is to prepare them for English classes when they enter colegio (high school) the following year as 7th graders. I immediately wanted to bring this camp to my town, as I had been continuously asked for English lessons from many of the community youth, but then immediately was stopped in my tracks when I realized I did not have a counterpart to do this. I have great respect for the Peace Corps approach to project sustainability and so I knew I needed to find a counterpart. Lucky for me, I had already met him and didn't even know it!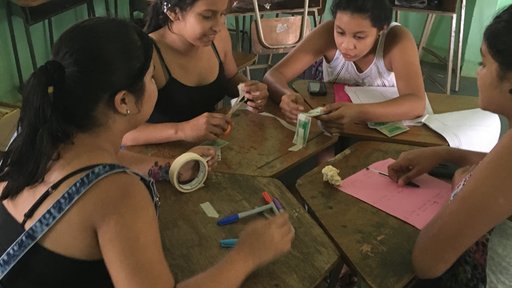 A few weeks earlier, I met Norman Andres at a community event at the church.  He immediately began speaking English with me and I was very impressed as I hadn't anyone else in the community that could speak English. Our very rural community, with an estimated 800 people, is located in north central Costa Rica, close to the Nicaraguan border. We are known for our sprawling sugar cane farms and deforestation industry. Needless to say, I was pretty excited to meet someone who spoke English, especially as well as he did, considering he is only 19 years old. After pondering for a few days as to who I could ask to be my counterpart for this camp, I remembered my encounter with Norman Andres, and decided to reach out. His immediate enthusiasm, excitement, and motivation for the idea inspired me to immediately apply for the JumpStart Camp. Looking back on it now, I had no idea what an amazing but exhausting eight-month journey this camp would be! 
Throughout the months of June – December Norman Andres and I spent countless hours prepping for the camp. I was introduced to Norman's mother, Cinthia, who is the president of the school board for the escuela (elementary school). She was on board with the idea right away and agreed to donate the use of a classroom, including water and electricity, to use as the camp space. This project was really starting to build momentum! The chisme (rumors) started spreading throughout town and before long we had 12 students signed up for the camp! During this preparation time, the most wonderful personal reward from this camp began to grow – an amazing friendship with Norman! I am continually impressed with his kindness, generosity, motivation and work ethic! He planned and executed this camp with me while still excelling at his classes at university, which require a three hour commute. Despite his busy schedule he was continuously active and engaged with all of the planning – this gave me the time to creatively alter the camp to not only provide the students with English classes but youth development activities as well! 
The majority of JumpStart Camps run about three hours each day, however, our camp had an entirely different schedule. We started every day at 9:00 with the English portion of the camp until 12:00 (the kids had a break at 10:00 for 30 minutes because no way would they have lasted three hours straight!). At 12:00 they had one hour for lunch and then finished off the day until 3:00 while we did various youth development activities together. Each week we had a different theme for our activities; the first week was goal setting, followed by positive communication, then leadership, and finally self-esteem. The activities ranged from role-playing scenarios and artistic creations to sports and group presentations. It was a lot to plan, but because of the great partnership with Norman and his mother, I was given the time to make this happen!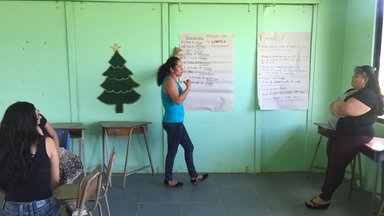 As planning continued, the camp evolved to incorporate yet another layer! Parents began getting very excited about the camp because their children never had an opportunity such as this before. Their excitement and enthusiasm for their children made me want to capitalize on their positive energy and get them involved too! Because our community is very rural, many parents do not have access to resources from Costa Rican agencies such as PANI, the child and family welfare organization of Costa Rica. PANI offers many community outreach educational programs to parents to promote the healthy development of their families. After some digging, I was able to find the contact information for a community health educator from PANI. He was immediately enthusiastic about coming, and we designed a four-day, two hours per day, workshop for the parents of the JumpStart camp students, while their children were enjoying themselves in camp. He shared with me a specific program that PANI normally uses for these workshops called Familias en Acción (Families in Action). The program was designed to be a learning space for the parents through the exchange of ideas and experiences; allowing for reflection on their current parenting strategies and the facilitation of new positive practices they can implement in their homes. This sounded exactly what would interest and benefit the parents of these kids. But then a challenge arose. Who could co-facilitate this workshop with the PANI presenter? As I would be in camp with the students, this brings me to the two angels whom, without them, this camp would not have been possible!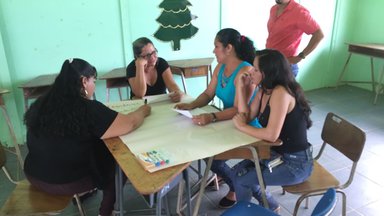 Finally, it is the night before the first day of camp, and I'm nervous! But then the first angel arrives in the form of TEFL Volunteer, Ryan Wilkens. Also from the northern region of Costa Rica, Ryan was assigned by TEFL JumpStart Camp Leaders to assist us during the month-long camp. Although I may be a native English speaker, that certainly does not mean I know how to teach English as a foreign language! This became more and more obvious throughout the camp. Ryan and Norman worked together to become an English-teaching power team! They co-taught the English portion of the camp and complemented each other's styles very well. Ryan has been teaching English in Costa Rica for almost two years and is excellent at what he does. His experience and knowledge elevated the English class experience. Norman brought a real-life viewpoint to the classroom, as a native Costa Rican who knows first-hand what it is like to learn English as a foreign language. He was able to explain difficult concepts to the students from the Spanish viewpoint. Norman was also an amazing role model for the students. If they were ever feeling overwhelmed or frustrated they could look to Norman and see a fellow Costa Rican who had reached an advanced English level at only 19 years old. As Ryan and Norman hit their teaching stride together, we completed our first week of JumpStart without a hitch! But I still hadn't solved my problem of who was going to co-facilitate the parents' workshop during the last week of camp…enter angel number two…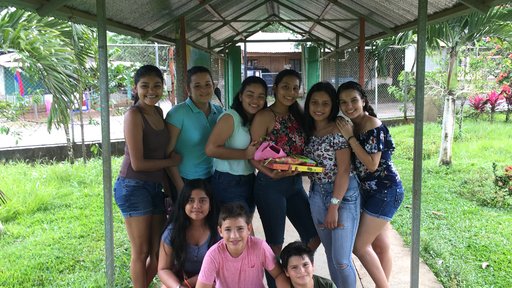 Coming from the lovely province of Puntarenas, a fellow YD Volunteer, Tayna Peña. I was beyond thrilled when Tayna offered to help co-facilitate the parents' workshop. Tayna is currently pursuing her master's in social work and therefore is very well versed in the themes discussed during these sessions. Tayna is also a North American Latina woman and was able to enrich the camp experience even further for my students by representing the diversity of the United States and serving as a role model of a strong, educated, and successful Latina woman. To say her presence was a success would be an understatement! She became the driving force behind the parents' workshop and made it dynamic and interactive for all by bringing in her knowledge, skills, and Peace Corps resources. Despite a lower turnout of parents than originally expected, she made it into a huge success by actively engaging the parents who were present and strategizing real-life methods for how they could implement the themes discussed into their homes in the long term.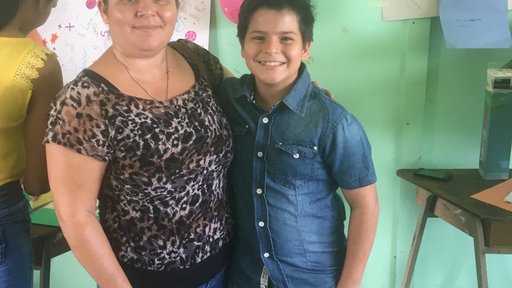 Four weeks passed in the blink of an eye. I think Ryan, Norman, and myself felt a new level of exhaustion that we didn't even know was possible, and that only four weeks of teenage girls could elicit. But I don't know if I have ever experienced a more worthy and enjoyable exhaustion before. I got to watch these students grow and change before my eyes in only four weeks. Every student moved up at least two levels in their English as evidenced by their pre- and post-test results. I cannot find the words to express my gratitude to all those who participated in this camp – from community leaders to fellow Peace Corps Volunteers, to parents, and to my students. I am so impressed with all of their efforts, which without, this camp would not have been possible. 
And now, to start the school year!