How do you say 'gracias', in English?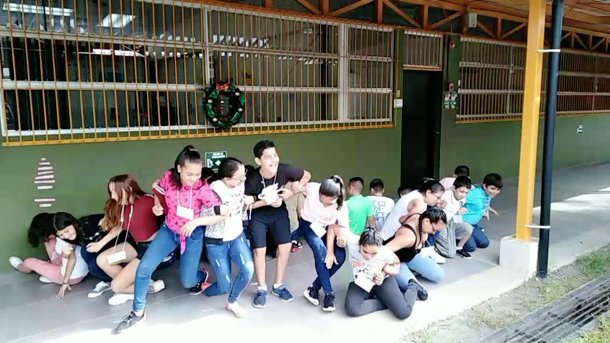 Feb. 19, 2020
JumpStart is an intensive four-week long English Camp designed to empower students with the knowledge, academic skills and confidence to make a successful transition to high school. In 2020, PCVs hosted 20 camps throughout Costa Rica. Check out Shannon's story.
"How do you say 'gracias' in English?" 
She's standing at the entrance to the classroom at 7:30 in the morning, before any other students have arrived, a slightly embarrassed expression on her face. Yeilin was in one of my sixth grade groups at my elementary school the previous year, and she almost didn't sign up for JumpStart camp. 
English isn't really my thing, she had told me when I asked if she wanted to come. And it was true, in a way: she always sat in the back of the class and said nothing, and often did not complete written exercises in class. The last test of the year was an oral exam, and she chose to receive a 0 on the test rather than speak English in front of her classmates. For whatever reason, she hadn't learned the material from previous years, and had made it to sixth grade with so few foundations in English that she felt too embarrassed to participate at all. 
I encouraged her to sign up for camp, anyway. "JumpStart isn't for people who are good at English," I told her. "It's for people who want help learning it." She took the permission form home and brought it back a few days later, and showed up with the rest of the kids on the first day.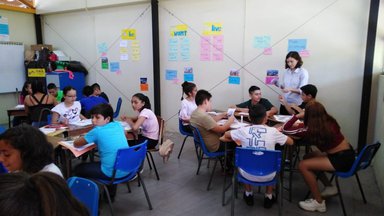 One of the things that I loved about JumpStart camp, and that my co-teachers and I emphasized to students, was that they weren't there to be graded. Unlike a traditional classroom, the camp does not have a single requirement for participants to be accepted or "pass" the camp. If we had any one requirement, it was to participate and make mistakes. Though many students are used to being told to get good grades and do well, we wanted to recognize that learning a language only happens when you try, fail, and try again. It's more important to try and fail than to not try at all. 
As the camp went on, I noticed that many students were advancing a lot in English, some more than others. In fact, our final numbers show improvements in almost all students' English level and many parents expressed happiness with the progress their children made. However, there were more important things happening below the surface: students were developing self-confidence.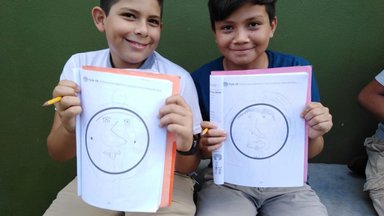 In Yeilin's case, she started coming early to camp and asking how to say different words, like "gracias," in English. They were things that many teachers would consider to be basic, like "name" and "please." And after a few words, she would go back outside to wait for other students to arrive. In the classroom, though she still showed reluctance to participate, she started answering questions (quietly) when called upon. Other students also gained in confidence; students that I had thought were shy during the previous school year started participating often, and others started helping and explaining difficult words to their classmates. 
These are the foundations for future success in high school; no matter how much English vocabulary they may or may not remember from JumpStart, these students will move on to the new school year equipped to be successful in English because because they feel more comfortable participating, trying, and even sometimes making mistakes, which are the real building blocks to successfully learning a language. They also practiced important skills like teamwork, collaboration, leadership, and respect for others that will carry them far beyond the four weeks of camp.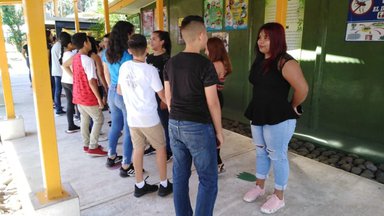 These students will move on to the new school year equipped to be successful in English
One day, near the end of JumpStart, we were reviewing homework as a class. Yeilin raised her hand and asked if she could write the answer to number 6 on the board. "Thank you," she told me in English when I said "yes," to her request. Though that moment might look small, it was one of the most important moments of camp for me. It showed that Yeilin is well on her way to learning English, or to achieving anything else she dedicates herself to. And that, more than any specific grammar concept or English level, is what JumpStart is all about.