It all started with a simple message on Facebook back in December 2015, a few months before I arrived in Costa Rica for my Peace Corps service.
I hadn't heard the name Carl Dickerson in many, many years, but when I saw it pop up in my notifications, it rang a distant bell. Carl, the founder and head of the Give A Book Foundation and a member of Rotary International, had contacted me in the hopes of sparking interest in his book donation program. I had known Carl from years back as a friend of the family in my hometown of Pensacola, Florida, but it had been years since we'd seen each other. At the time, I was very busy with completing last-minute medical tasks, gathering together some semblance of Spanish proficiency, and preparing myself mentally for the notion of living abroad for two years as a volunteer in the Peace Corps.
Being the diligent person he is, Carl did not let me off the hook. I'm glad he did not. We reconnected in August of the following year and began casting a vision for a donation of over 200 books to the local school in my community; however, there was a twist. Carl wanted to bring more than just books to my little corner of the world. He wanted to bring a free community eye clinic!
I was ecstatic with the idea of offering such an amazing gift to my local community, but I knew it would not come without some serious planning. Partnering with another local volunteer, Nancy Tuller, in whose community the Give A Book Foundation also offered a free eye clinic and book donation, Carl and I set out to assemble a team - filled with active Rotarians - that would make this dream a reality. On our end, Nancy and I worked hard to recruit fellow in-country Peace Corps Volunteers along with English-speaking nationals to help translate for the doctors before, during, and after the eye exams.
We decided the clinic would take place over four days between the end of February and the beginning of March 2017, with the first two days in Nancy's community and the last two days in my community. We were given suggested parameters on the total number of patients to schedule based on our communities' populations, and Nancy and I set out to schedule some 600 separate appointments. A few months and hundreds of phone calls later, we had our schedules completed, our clinic support staff/translators assembled, facilities secured, lunches and refreshments organized, book donations programmed, and lodging and food for the incoming doctors and their staff coordinated. 
The end of February came, and Nancy and I were excited to finally get this thing going. It got off to a great start with a wonderful book donation and cultural presentation at the elementary school in Nancy's site. After refreshments at the school, we moved to the local salon to officially start the eye clinic. When we arrived, there was already a line of some 40 people who had shown up extra early to make sure they did not miss their appointments. Following some frantic setup, we began admitting patients according to their scheduled times. 
The doctors, their staff, the translators, and Nancy and I felt very encouraged at the first break in the action and shared as much over lunch before jumping back into it. The day wound up being a great accomplishment - our first day of the local eye clinic had been a huge success! The following day, the final day there, saw a big improvement in the fluidity of the system, as we were able to attend to many more clients - including a few who hadn't made appointments - at the end of the day.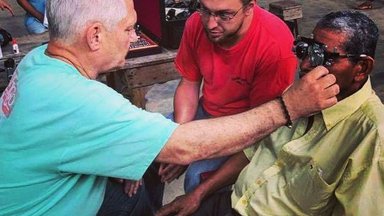 Following the success of the book donation/eye clinic in Nancy's community, we moved everything a few miles down the road to my community. After a very energetic book donation presentation at the elementary school, we arrived at the local salon to an even bigger group of people waiting patiently for their appointments. Setting up as fast as we could, the group of people waiting grew and grew, until we were faced with nearly 100 people sitting, standing, or leaning against the wall in anticipation of their appointment. As we got back into the familiar swing of things, the line started to move and we rediscovered our rhythm. The doctors and support staff were flying - we had a great system going! By the end of the first day, we had attended to over 140 separate patients in less than four hours.
Our last day was quite the full one. From 8:00 am to 3:00 pm, everyone worked diligently to attend to as many people as possible. Around 1:30 pm, I noticed that the list of appointments was nearly complete, with almost every person having already passed through the line. Knowing there was a waiting list of some 20 to 30 people who hadn't been able to schedule an appointment for one reason or another, I decided to approach the doctors one by one to ask about increasing the number of patients, at least until the previously-determined finish time of 3:00 pm. Not one of them showed anything but great compassion at the mention of seeing more patients, with one of them exclaiming, "That's why we came here, isn't it?!" I was overjoyed to share the news with the small group of people who had been waiting since the morning for a chance to be seen. 
At the end of the two days in my community, the team of doctors, assistants, and translators attended to somewhere north of 340 people total. We were overwhelmed by the amount of gratitude displayed by the various patients at the mere thought of receiving a free pair of glasses. From the smallest child to the eldest souls, there was no shortage of hope in the form of genuine smiles. We, the Peace Corps Volunteers, each agreed that it was a very rewarding experience, and Nancy and I in particular are very grateful that Carl, Rotary International, and the Give A Book foundation would offer this kind of gift to our communities. 
Since those four days in February and March, Nancy and I have both received the custom-framed, prescription glasses from the doctors and have passed them out to the various recipients. I wish I could explain to you how amazing it is to see the first moment someone puts on a pair of glasses and sees for the first time. One of the commonly-used phrases in this culture when you're trying something out for the first time is, "A ver…" which literally means, "To see…" Imagine my joy when I was able to hand a new pair of glasses - often times the first pair the individual had ever had in his or her life - and that person, as they're putting them on, says, "To see…"
And that's what it was all about. Combined with a strong emphasis on literacy, we partnered with Rotary International and the Give A Book Foundation and organized this entire program for the people of these small, rural communities to do exactly that… 
"To see…"
Special thanks to the following: Carl Dickerson, Rotary International, the Give A Book Foundation, the amazing team of eye doctors and their team of incredible assistants, A/V pro Dave Barnes, Peace Corps Volunteers Nancy Tuller, Aimee DeBacker, Samantha Noble, Alberto Navarro, Morris Germansky, Kailey McCarthy, Bryan Barahona, and Joan Nelson, and to local university student/translator extraordinaire Joha Moncada.