Essential Ingredients to Success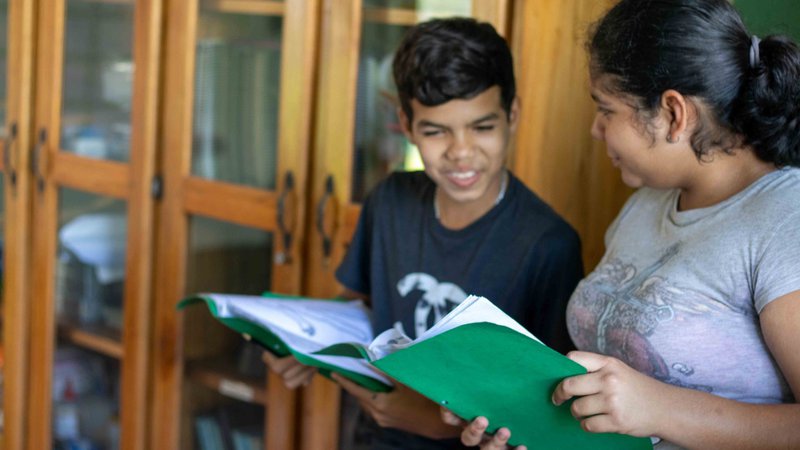 Feb. 28, 2020
JumpStart is an intensive four-week long English Camp designed to empower students with the knowledge, academic skills and confidence to make a successful transition to high school. In 2020, PCVs hosted 20 camps throughout Costa Rica. Check out Sara H.'s story.
"Gooood morning!!" I was practically hopping with excitement. This was the first day of our Jumpstart Camp.
"Hola, Sarita," Maicol replied. He shuffled his feet, and seemed more interested in observing the ant crossing a crack in the cement than in meeting my eyes. We had worked on self-esteem workshops for months the year before, but somehow, after a month of vacation, he was timid all over again.
"How are you?" I asked, trying to gauge his English level.
He replied, "fine," now looking at a burnt stub of grass at his feet.
"And what color is your shirt?" attempting to continue the conversation until the other students arrived. It was still barely 7:40 AM, and classes wouldn't start until 8:00 AM.
Maicol shuffled his feet again, and put his arms behind his back. "...Fine?" he replied, a few seconds later.
I repeated the question in Spanish, slightly disappointed internally, and wondered absentmindedly how we were going to survive January without adding twelve years to our appearances.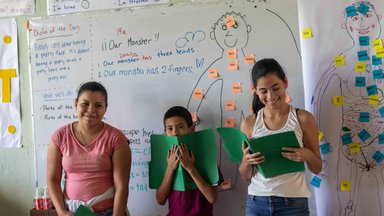 By the end of the month-long JumpStart Camp, Maicol not only outshined all the other students in his ability to comprehend and communicate his thoughts in English, but he also did so with a steady, serene self-assurance.
Maicol was not the only student who exceeded expectations. By January 30th, all the students were hollering names of occupations, responding calmly to rapid-fire questioning, writing "He is wearing black pants" instead of "He are pants black," and pointing to objects all over the school campus and pronouncing their names with wide grins on their faces. This increase in level of improvement and excitement about English was beyond anything that I had hoped, not because I had doubted the curriculum's efficacy or the students' ability to learn, but because I had erroneously underestimated all that which could be accomplished in one month, given a certain level of dedication, excitement, and hope.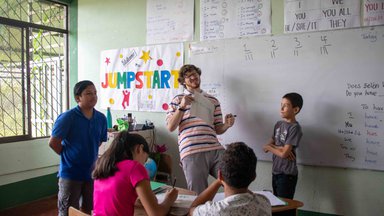 Dedication was the first essential ingredient to the sense of success and achievement we all felt at the end of the month. The students had dedicated every morning of an entire month during vacation to attend JumpStart Camp, when they could have been messaging their classmates and posting statuses on WhatsApp. The Board of Directors had entrusted us, the JumpStart Camp participants and facilitators, with the use and maintenance of the classroom. Parents had offered support and assistance with various aspects of the camp, including a donated lunch on the first Friday and a graduation meal on the last. And we, the facilitators, had dedicated months of preparation to plan and organize the first JumpStart Camp for our community. These personal commitments from various stakeholders established a resolute sense of ownership of the project.
The second essential ingredient was excitement, flowing from every laughter of the students and facilitators, from the posters we scattered across the walls, from the way all the students sprinted back to the classroom as soon as the bell rang to signal the end of recess. The high level of energy maintained throughout each morning, and throughout the entire month, most surely also maintained the high attendance rate.
Hope was perhaps the most essential ingredient.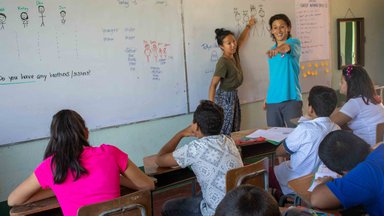 Lastly, hope was perhaps the most essential ingredient. Without doubt, there were tiring days. One day when suddenly everyone, in the third week of the curriculum, would forget how to respond to, "How old are you?" Or another day, when I would clap my hands and exclaim, "Let's play a game!" and be met with pouty eyes and a resounding "Nooo, we don't want to." Or that day when a student would smack her forehead in resignation and disappointment upon realizing that she had answered the Jeopardy question incorrectly. Amidst these cloudy, rainy days, hope was like a fresh breeze, reminding us that the clouds would soon blow through. Hope reminded us that these students would understand, learn, and be grateful for their own participation in and commitment to JumpStart some day.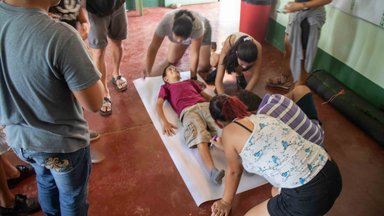 Indeed, only on one of the last days of JumpStart Camp, as we conducted the post-tests and flipped through the student workbook, did we realize just how much we had accomplished with determination, excitement, and hope as our collective beacon. When the SpongeBob SquarePants theme song began to play through the speakers during a shuffle playlist, we realized that we now had all the grammar and vocabulary to understand the chorus: "Who lives in a pineapple under the sea?" As we sang along to the chorus, I glanced around -- I saw on their desks the notes of encouragement we had all written to one another, and their faces gleaming with sweat after we had rehearsed the Cha Cha slide to review directions, and their post-tests sitting on the teacher's desk, and the drawings and maps and charts we had made in January -- and I realized that we had achieved more than a level 5 on the post-test.
We had, throughout the months-long process of JumpStart, become more confident and competent people.