English Program Offers Soon-to-Be 7th Graders JumpStart on School Year
Imagine that you are a soon-to-be-7th grader starting high school in less than a month. 
 You are fully aware that one of the subjects you will be required to learn is a second language – one that you have never studied before. Most of your peers will have already studied this language in their elementary schools and due to lack of resources at your elementary school, you were never exposed to the language. This puts you at an unfair disadvantage when starting high school.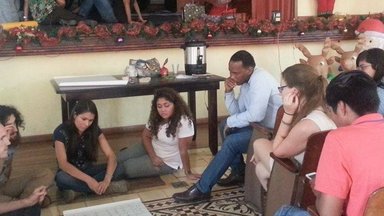 Such is the plight of the target audience for JumpStart, a cooperative effort between Peace Corps Volunteers, their communities, the Ministry of Education (MEP), university students, Fundación Costa Rica - Estados Unidos para la Cooperación (CRUSA) and other funders, focused on giving students a 20-day intensive immersion into English.
JumpStart began as a partnership between Peace Corps and Costa Rica Multilingüe Foundation (CRML) in an attempt to raise the English proficiency levels of transitioning 6th graders. After helping develop the program in 2011, CRML eventually passed the leadership to Peace Corps Volunteers (PCVs) who now serve as curriculum designers, editors, administrators, trainers and directors of each of the camps. Camps are conducted during the students' summer vacations in January.
With the 14 camps planned for 2017, the total number of JumpStart camps since the program's inception will rise to 99. On average, 11 students attend and some camps reach the suggested maximum of 20. Last year, 95% of students improved their English proficiency by at least 1 level.
Every year, PCV administrators look for ways to improve the camps and move closer to sustainability. For the 2017 camps, students preparing to be public school English teachers from the University of Costa Rica were sought to work alongside PCVs as co-teachers. JumpStart administrators explain that the hope is that local English teachers and university students will eventually be the guiding force behind the program.
Another move toward sustainability is keeping costs to a minimum. Those costs include insurance, training of teachers, and materials. The average cost per student in camp is $79. Communities are asked to supply as much as possible including food and drinks. MEP has begun to cover the cost of copying Student and Teacher Workbooks.
In addition to addressing budgetary challenges, JumpStart administrators revamped the entire curriculum for the camps in 2017. After polling leaders from 2016, the editors streamlined and adjusted activities as well as added a gender equity emphasis which is integrated into the high school ready classes. The Let Girls Learn initiative set forth by First Lady Michelle Obama, and adopted by Peace Corps, proved invaluable for this emphasis which is also supported by MEP goals.
Training, conducted annually by previous JumpStart leaders, reminds those volunteers who will lead their community camps across the country, that JumpStart seeks to "give incoming high-school students the basic English knowledge, confidence and overall academic habits to succeed in seventh grade and beyond."
The key for volunteers, co-leaders, and students is that the "curriculum is designed to achieve those goals through dynamic, fun lessons that get kids excited about learning," said this year's co-administrator Isabon Thamm who helped edit the new materials. They include all resources such as lesson plans, worksheets and visual aids  that will be needed for the 20 days in January.  
"According to our Peace Corps estimates, about 1/3 of the Teaching English as a Foreign Language Volunteers hold a camp within their first year of service," said Doug Tyler, another co-administrator for the 2017 program. "Volunteers from other programs, concerned about the students in their communities, also choose to take on the challenge of conducting camps.  Being a camp director is no small matter since it not only includes teaching English but months of preparation in budgeting, training and working within communities to identify local resources."
Past JumpStart leaders acknowledge that the camps often exceed their expectations. "JumpStart made me closer to my community," acknowledged Jaclyn Stecker, the final member of the administrative team for 2017. "After more than half a year of trying I gained their trust in just one month."
The trust came, Stecker explains, after the close-knit community witnessed her preparation for the camp -- walking to each house which was sometimes hours away and up jungle-covered mountains to find and speak with parents about their student's participation.
"All of these things combined made up the key that finally opened this tiny community's heart to accept me as one of their own."