Developing Life Skills in Local Youth
PCV Elizabeth shares her experience working across sectors to address local community needs for youth development programs.
In Peace Corps Costa Rica, January is a month of excitement as PCVs all over the country hold different kinds of camps. During January 2019, Volunteer Elizabeth rolled out a Life Skills Camp for pre-adolescent boys and girls that was tailored to the specific needs of her community.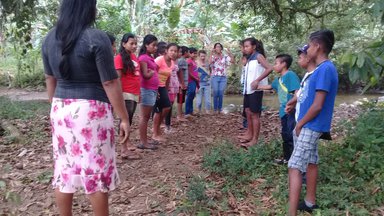 As a TEFL (Teaching English as a Foreign Language) Volunteer, Elizabeth already had the pleasure of hosting three "JumpStart" four-week English intensive camps for incoming high school students. For her fourth and last campaign, she invited Youth Development volunteers to aid her as Life Skills experts as she dove into the unfamiliar realm of Life Skills topics.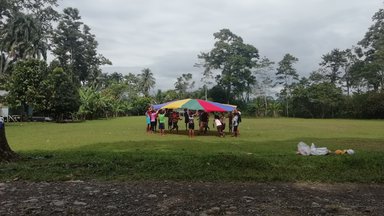 After a three-month educators strike from September-December 2019, the camp was wildly popular with stir-crazy youth who were excited to spend time participating in activities with their peers. During the two weeks of camp, 20 students participated in interactive sessions that focused on topics such as decision making, non-violent communication, active listening, leadership, alcohol abuse, and emotional health. Each day also included opportunities to develop artistic or athletic skills, which were designed to boost self-esteem and help with the development of positive coping mechanisms. Community members also facilitated sessions on Bribri, an indigenous language spoken in the area, and traditional bag-weaving.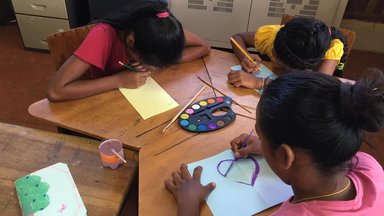 Local institutions were star contributors to the two-week educational extravaganza. ICODER, the Sports and Recreation Ministry, launched the camp with a full day of sporting activities and teamwork. Corredor Biológico, a national conservation program, brought in wader suits and an advanced system of catch and return fishing equipment to teach students hands-on about the ecosystems in the water sources in their community. Corredor Biológico also donated 300 "sotacaballo" trees, whose strong root systems are ideal for strengthening river banks to avoid future floods. Students learned about the importance of trees for oxygen, as well as their powers to slow erosion, while taking action through planting the trees along the local river bank. The visits from ICODER and Corredor Biológico were highlights for the students.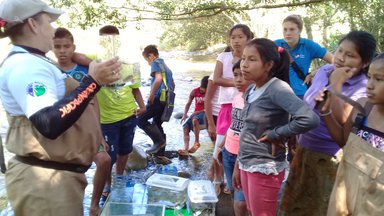 During all 10 days of the camp, attendance was between 90% and 100%. The two university student facilitators and youth participants practiced public speaking on a daily basis. They also gained practical experience creating SMART goals, making decisions through pro/con lists, identifying and observing their emotions, and practicing non-violent communication through "I feel" statements. In addition, they tried their hands at watercolor painting, sewing mini-notebooks, and bracelet making, among other crafts.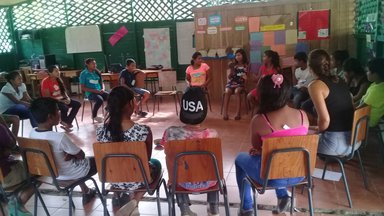 The last day of camp was a celebration of all the students had accomplished. The youth and facilitators traveled by tractor, canoe and minibuses donated by local institutions, to get to the paradise that is Project Ara Manzanillo: Green Macaw Refuge. At the Macaw Refuge, they were enthusiastically greeted by Tirza and Duaro, local and indigenous staff, who taught them all about the importance of promoting the survival of the endangered Green Macaw.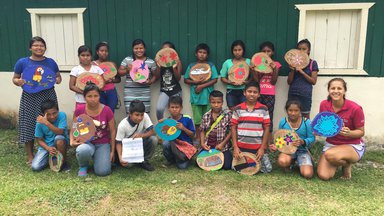 Overall, the 2-week camp proved to be a transformative camp experience for everyone involved. Hopefully by sharing this experience, other Volunteers and counterparts will be inspired to work together to develop cross-sector solutions to better address the needs of locals throughout Costa Rica!