Counterpart Spotlight: Meet MEP National English Advisor Nella!
Local community counterparts play an integral role in supporting Peace Corps Volunteers in site.
As leaders in their communities, they work extensively at the forefront of community initiatives and serve as important change agents helping to realize long-term sustainable solutions on a variety of issues in areas such as education, youth development, economic development, and community infrastructure projects. It is because of their partnership that Peace Corps has been able to continue to work towards its mission of promoting world peace and friendship for more than 50 years. For this reason, we desire to give counterparts a chance to share their stories as well in our "Counterpart Spotlight" series. This month, we are excited to share a recent interview with Nella, a National English Advisor with the Ministry of Education!
Q1: How long have you been working with the Ministry of Education (MEP) and in what capacity?
I have been working with the Ministry of Education for 28 years. During the first 18 years of my career I worked as an English teacher and for the last 10 years I've been a National English Advisor.
Q2: What is your current role working with the Ministry of Education?
As a National English Advisor my role is to propose projects, create policies, monitor curriculum implementation, support teachers and regional advisors, create resources, coordinate actions with strategic partners, amongst other tasks.
Q3: When did you begin working with the Peace Corps?
I began to work with the Peace Corps 6 years ago.
Q4: How many volunteers have you worked with/ for how many years?
Over the past 6 years I have had the privilege of working with more than 30 volunteers on different projects.
Q5: What made you interested in working with Peace Corps?
When I got the position as a National Advisor, a coworker of mine at the time brought me to a meeting at the Peace Corps office. That day I discovered there were many opportunities for our organizations to work together on different projects and to support each other in our collective missions of improving English language proficiency in Costa Rica.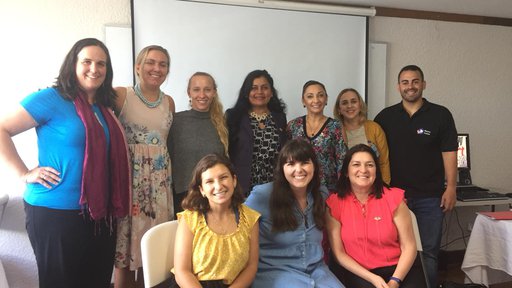 Q6: Describe your experience working with Peace Corps volunteers and the Peace Corps organization as a whole.
It has been a wonderful experience working with the Peace Corps and with Peace Corps Volunteers. I'm so proud of the experiences I've had in this role and feel strongly about sharing my experiences with others. As a National Advisor, it can be a great challenge bringing new initiatives to fruition due to the busy nature of the position. However, with Peace Corps' support, we have been able to carry out many important initiatives that we had previously only dreamed of setting into motion. I'm extremely thankful for Peace Corps' unwavering support and enthusiasm for our projects -- there has yet to be an idea or a project we've wanted to create where we have not received a resounding "YES!". Every time we've completed one of our joint projects, we've always felt a great deal of gratitude and joy knowing the benefit teachers and students from all around the country will receive as a result. I'm incredibly grateful for the opportunities we have had to learn from one another and share our cultures. I have nothing but great memories from my experience working with Peace Corps, marked by a great deal of hard work, but even more happiness and smiles along the way.
Q7: What have been the most positive aspects about working with the Peace Corps?
The most positive aspect of working with the Peace Corps has been making the impossible possible, as simple as it sounds. Now, with the support of the Peace Corps, I am more confident than ever that we can achieve our collective goals.
Q8: How have you seen the public education system grow and evolve in Costa Rica since you began working with the Ministry of Education? How has Peace Corps helped contribute to that evolution?
Our education system has grown and evolved a lot since I began working 28 years ago. We have new curriculum in almost all of the subjects students take in high school, though I can speak best to the changes that have been implemented specifically within the English coursework. We now have a new curriculum for our academic and bilingual study plans, we have a new assessment system that emphasizes more the process than the products, and are currently working on a project called Bilingual Groups Spanish -English. Additionally, we are working to develop a new national computer-based test to certify a standard English competence level. All these changes and progress have been amazing for our country. Though these developments bring a lot of challenges, I see them as daily reminders of the opportunities for our organization to improve. The support of the United States Embassy and Peace Corps have been integral to our success in this regard, and I'm incredibly thankful to have gotten to work with them hand in hand on these initiatives.
Q9: What would you say is Ministry of Education's greatest accomplishment achieved in partnership with Peace Corps/ Peace Corps volunteers? Why is this achievement particularly impactful for you?
I cannot mention only one. We have worked together on so many projects, including writing new curriculum and bilingual study plans, planning strategies to train teachers, designing materials to train teachers, writing scripts, writing units for the teacher's guides, recording audios, recording videos, writing materials to create apps, proofreading materials and creating tool-kits for teachers, it would be difficult to choose just one accomplishment that has been most impactful for me. All these achievements collectively have been particularly impactful because we have been able to directly address our teachers' needs. Before we began writing the new curriculum, we performed a needs assessment in which we interviewed many teachers. All of them told us they needed more resources and materials to support them. Now, we have many resources thanks to the teamwork between Peace Corps and the Ministry of Education.
Q10: What are some of your biggest hopes for Costa Rica and the Public Education system? How would you like to see the Ministry of Education continue to grow? What future goals do you hope to accomplish in the near term/ long term?
I hope we can educate new citizens that care for nature and sustainable development, use information & communication technologies, and have a global view of citizenship with local belonging. Additionally, I hope in the future all students will be able to speak English fluently to have access to more study and working opportunities.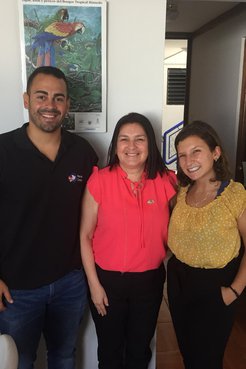 Q11: What is something new about United States culture that you have learned through this experience?
I have learned a lot about US culture by working with Peace Corps Volunteers. Aspects of the United State's work culture, such as punctuality, organization, commitment, respect, understanding, support, assessment, and development of a clear work plan have reshaped how I perform in my own role as a National English Advisor. Most importantly though, I have learned that to reach goals, it is better to work as a team.
Q12: Is there anything that surprised you about working with Peace Corps/ Peace Corps Volunteers?
I was incredibly surprised to find how well organized and responsible Peace Corps Volunteers are. They never waste time! I love to feel that we can reach a goal because we are working together and feel that what we discuss and plan is really going to happen.
Q13: Have any notions about United States stereotypes changed as a result of your work with the Peace Corps? If so, how have they changed?
I can't necessarily comment about any specific stereotypes, however, what I know for sure after my work with the Peace Corps is that the Peace Corps is a great friend for Costa Rica. The organization helps our country not only in education but in many other areas as well. For my experience working with Peace Corps I would just like to say thank you for being one of the main supporters in the teaching and learning of English in Costa Rica.
Q14: Are there any particularly memorable moments you would like to share?
Last year, we had a writers' camp to produce a toolkit for literature and a resource kit for bilingual study plans. We created both and now teachers are using them. When I showed the EDUCATICO page from the Ministry of Education's website where all the resources the Peace Corps Volunteers had made for us were published, I remember how surprised the volunteers from the group of PCVs who were working with us were when they saw the number of visits each resource had (more than 3000 visits). They were really surprised to see the impact their work had and how important their support was for us. They truly did a great job and produced high quality resources.
Q15: Is there anything else you would like to share?
I would just like to say thank you very much for all the support Peace Corps Volunteers have given and keep on giving to the teaching of English in Costa Rica. I would like to extend a special thank you to the Peace Corps volunteers who have worked with us in the past, and those that are currently working with us now on many projects. Your work will continue to support the teaching of English in primary and secondary education for many years. You have helped us plant many seeds that will produce beautiful results, I am sure of it!
Thank you to all of the counterparts who have been our allies over the years. We greatly appreciate all the work that you do!