Counterpart Spotlight: Johnny
PCV, Lauren, shares insights on the dynamism of the relationship she has with one of her primary counterparts- Johnny.
Air conditioning hummed in the background. We waited. The tension in the room was palpable; we knew that the moments to come would define the tone of our service. We sipped at coffee and chatted over muffins to ease the suspense, waiting anxiously for the doors to open and reveal our fates.
In September 2017, nearing our transition from budding Peace Corps Trainees to full-fledged Peace Corps Volunteers, we met the counterparts that we would work with for the next two years. It was here that I met Johnny.
My nerves leading up to this encounter, as they often are, proved to be completely unnecessary.
In addition to being a gentle soul and extraordinary English speaker/educator, I knew from early on in our relationship that I could count on Johnny as an advocate, ally, and trustworthy friend. My first few weeks in site he made special efforts to introduce me to everyone in the high school and invited me to a number of cafecitos to continue getting to know one another, plan lessons together, and to teach me about the ins-and-outs of my community. He also graciously invited me to participate in all of his English classes in the high school, where I have had the pleasure of working with and learning from him for the past two years.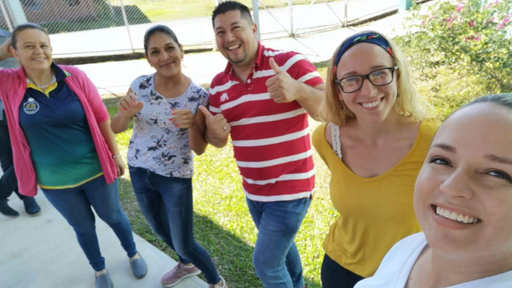 This may not seem like a big deal at face value, but I would like you to take into consideration the vulnerability that inviting a native stranger speaker to co-teach your English classes requires. I admire to no end how open and accepting Johnny is as a person in general and am particularly grateful for how welcome I have always felt in his classes. He is in constant pursuit to better his language and teaching skills; his motivation for learning has inspired me both as an emerging teacher and language learner, and I consider it one of the many reasons that he is such a great teacher.
I recently got the chance to interview him (over coffee, naturally) so that I could share with you a bit more about an individual who has left a hugely positive impact on my life. Check it out:
1) How did we meet?
We met in a training in San Jose (Project Partner Workshop). We went there without knowing each other. When we got there, they gave us a piece of paper describing a person (my paper said "love gardening/plants, left-handed, and has blue eyes") that we had to find. That was the first day that we met. At that time I was scared because I had never been in contact with a native English speaker – I didn't speak very much in English at that point, so that was something that really changed my life because I lost my fear of speaking English with someone else in that moment, and have continued to learn new things each day. And I got a new friend; someone who has helped support me in my profession and with my students.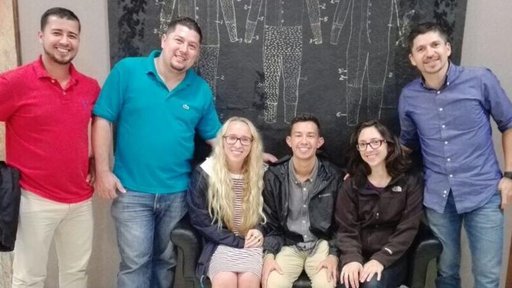 2) What made you want to learn English? Had you always wanted to study language?
When I was in high school about 22 years ago, I met a teacher that was incredible; he caught my attention for the language. I remember his classes were always fun and interactive. That was the first time that I had contact with the English language. I always wanted to know and understand what other people are saying/talking about when they are talking in English; that always caught my attention. I really like learning language, it piques my curiosity. That was why I decided to learn English. To learn to communicate and connect with other people
3) Why did you choose your current profession (teaching English)?
Because I like it! I enjoy meeting people, working with students, helping people, and transmitting what I know to others. I know that sometimes it's hard, but it is something that I really enjoy.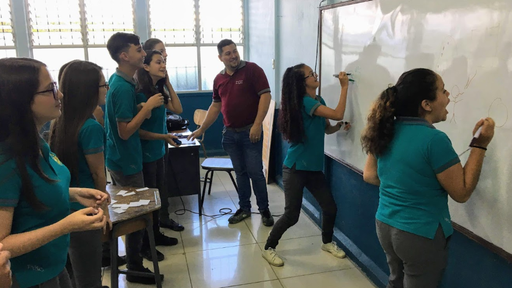 4) What is your favorite part about your job?
My favorite part is when you are sharing experiences and when you see students reaching their goals. When your students get to where they want to be with your help, it's magical. The last three years that I've prepared students for the high school graduation exams, we've had a 100% passing rate, which is something that I like a lot; not just for me, but watching students achieve their goals and succeed by applying what they know.
5) What are you looking most forward to over the next 5 years?
To increase my professional life, to grow up as a professional, to do the best that I can and continue working in the right way, to share with people and to help people.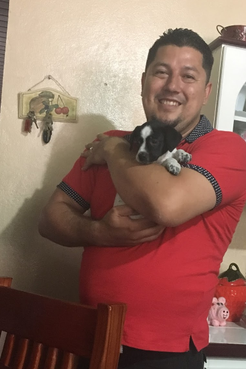 Johnny has been a constant source of light in my service. To me, he has always been a passionate educator, a smiling face in a crowd of strangers, and a loyal friend. My gratitude for our paths crossing is immeasurable.