Basketball Court Nets Connections and Feelings of "Home"
Coming into my site for the very first time, I felt like I was back to where I have been so many times throughout my life – square one. 
Moving from state to state during my childhood, I was constantly trying to find ways to fit in where I had no connection or understanding of the local mores, customs, and habits. This time, though, it was not only a new home – it was a new way of life. For the next six and a half months I would have the privilege to serve in Cartago, one of the seven provinces of Costa Rica.
As a long time history nerd, I relished the opportunity to jump into my community diagnostic and learn about my new village. Learning about the public health trends as well as the long standing relationship among agricultural multinationals was fascinating each day – driving me to work harder and connect in a deeper and more substantive way. My community has a long tradition of being overlooked as it is positioned in close proximity to the resources of established and seemingly stable populations. However, the hope of economic development at the same level of their neighbors was never fully realized. Furthermore, the families that moved here for the opportunity to get ahead due to the economic success of the larger region have come to be stuck in a system where upward mobility is not only difficult but seldom seen.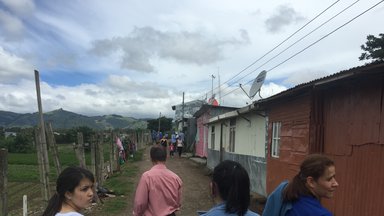 My personal transition was defined by one word – home. A world removed from my time with friends and family, I needed to find something here that would help me connect in the same way as I had done with every childhood move back in the States. So I decided to ask the question that had always made me feel most at home, "Where is the closest basketball court?" With the help of my host family, I was able to traverse the bus routes to find the answer ten minutes away from my house. There, finally in a space where I could clear my head, I began to relax and make connections with others in the community.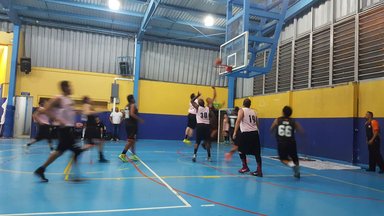 One such connection was Manuel Fuentes Calderon, a 32-year-old Costa Rican, who has used the game of basketball as tool to achieve his one-man mission of community development.   After our first hour on the court, Manuel and I began to talk less about the game and more about our lives and what had brought us to the gym that fateful day. We instantly connected and for the first time I understood what it meant when Peace Corps says that you may not know exactly who you will work with, or the details of what you will do until you are in your site. We talked about the local basketball and recreational climate in the area,  the lack of coordinated planning, issues surrounding youth nutrition and public health, and numerous other topics. It was at the end of that first day that he invited me to come join him the following week to work with his basketball academy.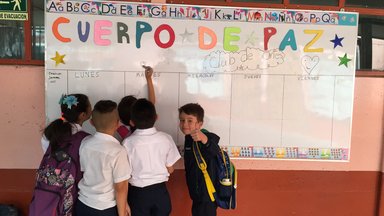 Beaming with excitement heading into my first practice, I wanted to do everything I possibly could to impress. Phrases like "jump a little higher", "run a little faster", and "work a little harder" played on repeat in my head as I joined the over thirty youth players who had come to work with the "gringo jugador." At the end of the practice, I was able to talk with them about their interests in basketball and who they looked up to. They said the typical answers: Kobe, LeBron, Curry and every other NBA All Star. But then I heard a different answer – "usted". Not knowing how to respond I asked the young athlete, "¿Por que?". His answer sticks with me to this day – "Porque usted está aquí". Simply by being at the practice, simply by being present, I was able to make a difference in a kid's life. And that is why every Tuesday and Thursday I'm elated to lace up my sneakers and get back to work with them. That is why I love my Peace Corps experience.
---