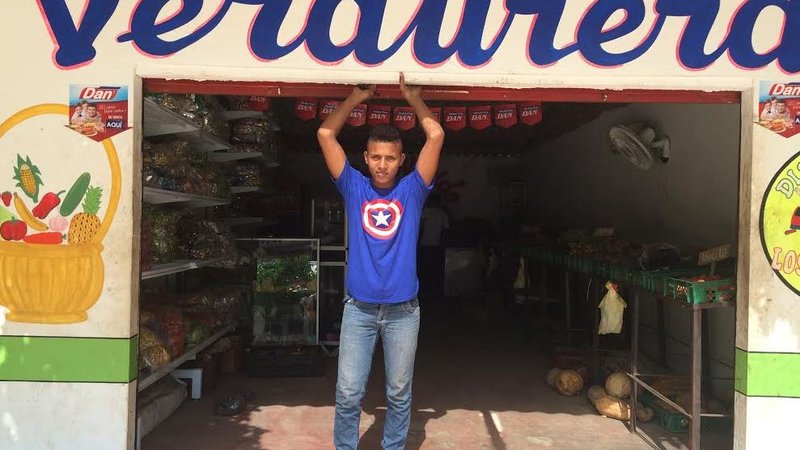 Aug. 21, 2017
It's all about finding joy in the little things. Walking to the Verdurera in the morning and buying my groceries is one of those little things. I stop in to visit my first English student Jaider and joke around while I buy my vegetables. Jaider works at the Verdurera down the street from where I live. He knew who I was before I made it through the threshold. Living in a small town a new face sticks out. I am the new English teacher in town. Jaider bombarded me with questions on how to say anything that came into his head in English. He asked me if English was hard to learn. My response: "All you need is motivation". I told him, it's not going to happen in one day, so I proposed that every day I come in he can choose a new word to learn. Jaider wants to learn the English word for everything they sell in the store, so eventually when I come in to do my shopping I can order my entire shopping list in English.
First word: Coconut! We broke down the sounds, repeated the word and tossed around a coconut. The next day I walk up and Jaider meets me at the door and proudly offers me a "coconut". I have been in site now for over two months and Jaider has learned the English word for a majority of the produce in the store. I don't even pick what I want anymore. I come in, I sit down on a stool, Jaider picks up a bag, and I order my groceries in English. Jaider walks up and down the store usually with a smile on his face and sometimes a confused look and fills a bag with everything I have asked for. He has advanced to understanding not just the food that I want but also full sentences including descriptions of size and color. "I want a big red pepper" or "I want a small white onion".
I face the daily frustration of improving my Spanish skills and becoming lost in conversations. I look forward to my daily trip to the Verdurera because Jaider shows me how to learn with a good sense of humor and a constant smile. Jaider is a great example of an individual with patience and a gracefulness to learn. I remind him daily of how impressed I am with his capability to retain knowledge and progress so quickly. I am elated to be a part of Jaider's realization that he has a limitless potential to learn.