My tour guides of Don Diego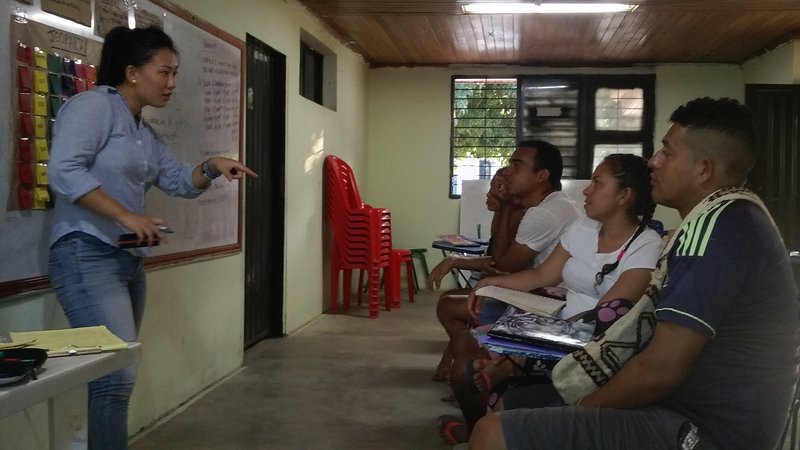 March 24, 2017
Now, I must say, my tour guides group are my pride and joy and truly are my friends.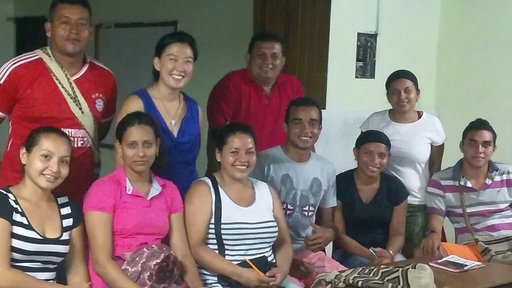 In November of 2016, I started a community English class for tour guides of a village north of Santa Marta. I started this class as if my buttocks were on fire because we were about to enter the very long school winter break – winter break is almost 3 months of free time. Coming from the U.S., a pretty workaholic country, free time like this is just unheard of.
 We started with the repetitive, but crucial theme, of the verb To-Be, and off we went on the path of applicable English learning for their tour guide professions.
 Theme after theme, I start noticing gradual change in the progress and behavior of the tour guides. The women in my class now participate without laughing from embarrassment or shyness. There is general growing participation in our WhatsApp group where we practice pronunciation and speaking. They come very close to being on time for class- (On the Coast of Colombia, punctuality is not common). I even have one guide who comes 10 minutes before class nowadays! 
 However, my number one objective is seeing the learned material being applied, so at the start of the class I allow my tour guides to share how they apply their English. This is where I feel like a mother seeing her children graduate from college and going on into the world. In this class, I am mother goose and they are my baby geese.
 Angely, one of my shyer tour guides, told me as if it weren't a big deal that she informed some tourists the cost of the bus fare to another village nearby. Not only one time, but twice! Who knows how many times she's helped out now?
 And there is Elderson, the absorbent sponge of the class, who tried to humbly tell me that he got a tip from tourists because he helped them with how much the activities in his community cost, from where to where the boat ride would take them and how long the ride would be.
 And then, there is Pablo, who turns in meticulously-written homework. Indirectly, I learned of his accomplishments one day sitting at a store.
 While drinking a juice, a lady came over and greeted me,
"¿Hola Seño, cómo estás?" "Hi teacher, how are you?"
 She introduced herself to me as Pablo's wife. She told me that an English-speaking tourist had come to her restaurant and she did not know how to communicate with her customer. She called her husband for some help and Pablo came to the rescue by explaining the typical dishes prepared that day and the associated costs to the customer. At this point, I am just smiling at her from ear to ear. She told me that Pablo is helping her with English, and during these days, she sees Pablo working really hard on something and tells me that it is the English homework that I assign.
  At first, I started this class as a part of my job: to accomplish the mission of supporting bilingualism in Colombia and also, to stay busy even in the depths of winter. Now, I must say, my tour guides group are my pride and joy and truly are my friends. They teach me a ton of Costeñol, (Spanish spoken on the coast with many idiomatic expressions) and they make me chuckle every class because pronouncing "bird," "grilled chicken," "shrimp rice," "fifty," and "fifteen" can be pretty difficult and frustrating. They are a fun group of people, and I am extremely honored to be a part of their lives.