Using improved practices to increase farm production and income generation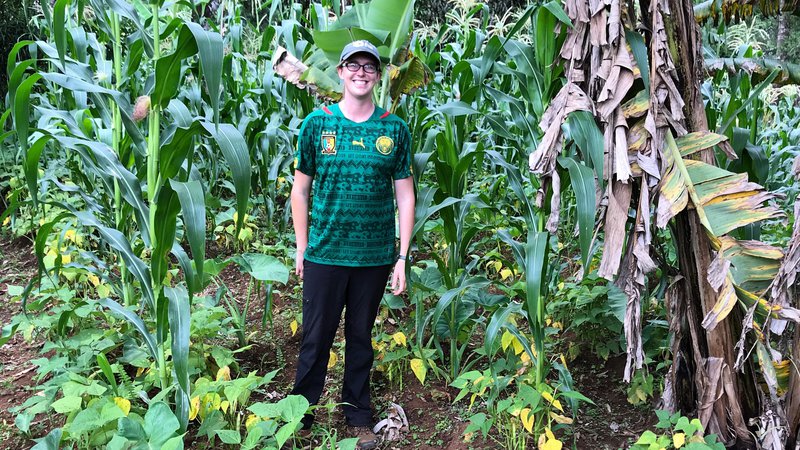 Aug. 20, 2019
The people in my village survive mainly on subsistence farming. With the low income they make, they have to choose between eating, sending their children to school, or getting proper medical care. One way to help better their situation is to improve and increase their farm production.
The vast majority of the lands are already being used for farming, so the possibility of using more land to increase the outcome of a farm is very minimal. Instead, people can improve their practices to get more out of the lands they are already using.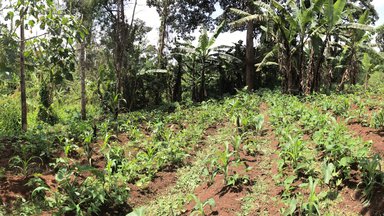 In light of this conviction, my counterpart insisted that we start a model plot to demonstrate to the community the knowledge that can help improve farm practices, and thereby production. The ultimate goal was to show the difference in production outcome between our model farm and the surrounding farms, thus showing people the difference rather than simply telling them that these practices work. My counterpart convinced the chief of village to give me a 450 meters square parcel of land and we got to work.

We started the project last year and, at first, it was not as successful because we used the plot to attempt to grow soybeans. I was told in advance that soy beans wouldn't grow well but knowing their great nutritional value I wanted to see it for myself. I considered it a failure because the soybeans grew so poorly and, as a consequence, we weren't able to demonstrate the value of using our improved practices such as organic fertilizers.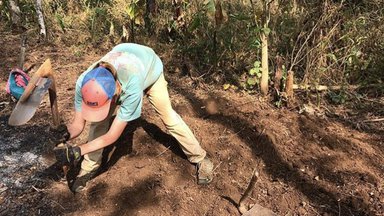 This year, we decided to pursue a different tact. Instead of a new crop, we would grow what is already grown in the village and simply show the difference in productions based on our practices. Additionally, I chose to go to the Institute of Agricultural Research for Development (IRAD) station in the divisional capital city to get an improved bean variety, using the farm as an opportunity to reproduce the seeds. Throughout March my counterpart and I prepared the land, clearing it and creating new garden beds before eventually seeding it with the improved bean variety and corn. Throughout the following three months we put down manure as an organic fertilizer and focused heavily on pest management through intensive weeding once each month.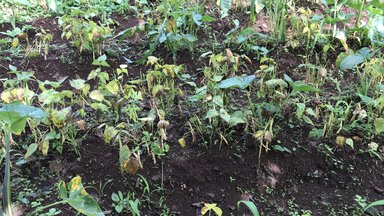 It was a lot of work, especially as my counterpart was very busy with using those same practices on his own farm so I was left to do a lot of the work myself with just his guidance. But the results were incredible! At the end of May we harvested a small part of the farm as a sample. I carried it back up to my house and counted out the 79 beanstalks that we harvested and the 955 beans that resulted from it, an impressive 12:1 reproduction ratio. I was already excited at that point for the full harvest that we completed a week later.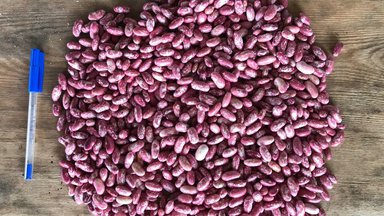 For the full harvest we used the intensive pest management practices again to make sure that any pests harvested with the beans would not destroy significant portions of the batch. Therefore, after carrying six full bags of beans the mile from my farm to my house, I spent days pulling bean pods off of stalks and then individually opening bean pods. Any bean pods with worms in them were thrown away while the rest went into an ever increasing pile. After three full days of work we had our complete results. Although it was too many beans to count, I measured by kilos: I planted one kilo of beans onto the farm with my counterpart. Three months later, I had 17 kilos of beans!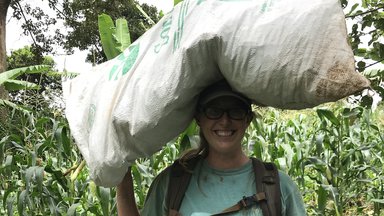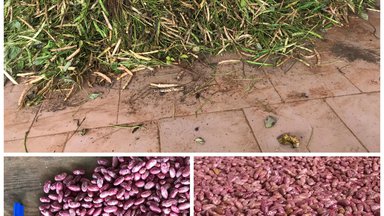 The plan for the future of these beans is simple with such amazing results – distribute them to people in the village. I will distribute half of a kilo to 32 people in village, leaving one kilo left over to plant again for the next season. But the distribution won't start and end with whomever gets seeds from me for our next planting season. People who want to receive the beans will be signing a form that states that by receiving the beans they agree to distribute half a kilo to another five farmers who haven't received it yet. Those farmers will also have to agree to the condition. With a 17 times reproduction rate, that still leaves six kilos of beans left for each original farmer to work with just from the first harvest. They can guard some of that to replant on their farms and either sell the rest to alleviate some of the costs of living, have as food for their families, and/or give even more away to others in village.