Students Learn Best While Getting their Hands Dirty
I was transferred to a new post towards the end of my first school year, and the transition was daunting.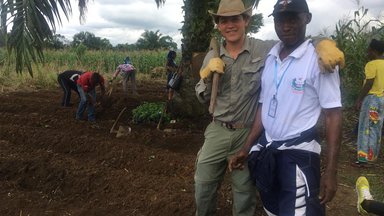 Luckily for me, my new principal Samson was there to welcome me with open arms and great ideas. Samson likes to get things done and he doesn't take no for an answer. When I arrived at my site, Samson told me that a school garden was just what his school needed.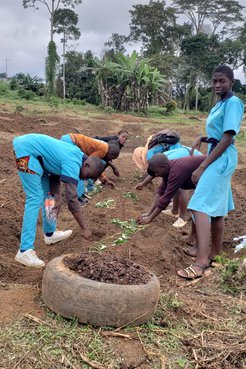 I did not have any gardening experience, but through a Peace Corps nutritional garden training we gained the knowledge to design both a school garden and gardening/nutrition curriculum for our entire student body. The garden evolved into a community project as my counterpart and I recruited the support of the school faculty and got community members to donate fertilizer, seeds, and trash barrels.
The school garden is not just an extracurricular but a hands-on, student centered approach to teaching the students about nutrition and improved farming techniques; both essential sections in their biology class. These topics are covered more in depth during bi-weekly lessons in the classroom that give them the theory behind the techniques they are using as well as the benefits of increased nutrition. However, the garden has gone beyond applied biology principles and is being incorporated into all subjects at the school such as: description and vocabulary in language classes and ratios in mathematics.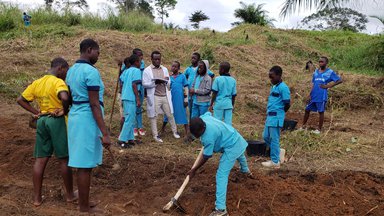 Additionally, we are cultivating leaders as each class's captains are responsible for organizing their class's bed maintenance. But the leadership does not end there, each student is encouraged to take home what is cultivated in the garden to their family and share their new knowledge and techniques to increase their own family's nutrition and farm output.
Giving the students so much responsibility and direct involvement in the garden has really improved their engagement in school across all subjects and has been the highlight of my school year!