Rural Community Joins for First-Ever HIV Testing Campaign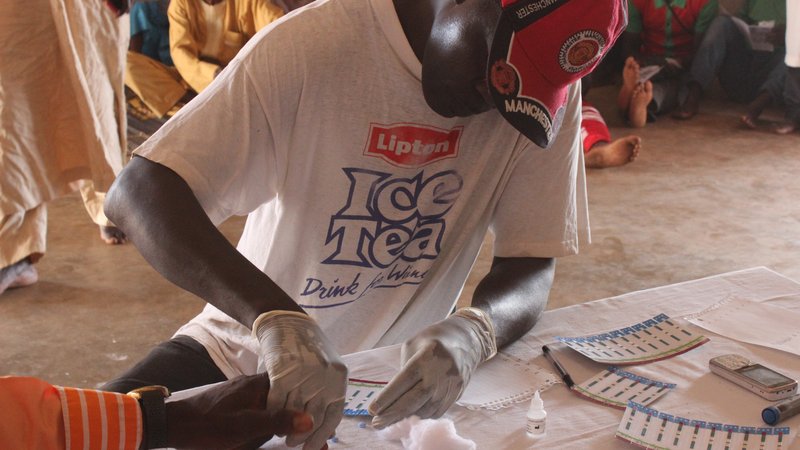 Dec. 1, 2017
When I got to my village, a sleepy town of 500 nestled in the mountains of the Adamawa, I was shocked to find out that the HIV/AIDS prevalence in the health area was 9.1%.
In my discussions with folks during my community needs assessment, community members did not believe that HIV/AIDS was a problem and almost every participant reported that they had never been tested for HIV/AIDS and therefore did not know their status. Living in a rural village has opened my eyes to a lot of difficulties that Cameroonians face when it comes to access to care. Our health center serves an area of over 11,000 people but many of people in the area have to travel over two hours to access our services. Last year, there were only four people in the entire health area who came in for voluntary HIV testing. For those seeking to receive Antiretroviral Therapy (ART) and test their viral load counts the distance to the District Treatment Center is doubled.

After determining there was a significant HIV/AIDS prevalence, as well as limited resources for testing and education, I decided to get started on an action plan. With the leadership of my counterparts and dear friends Mr. Oumarou and Madam Larmba, we began organizing an educational seminar series leading up to a health-area-wide free testing event. Stigmatization against people living with HIV/AIDS (PLHIV) is a global issue and in small communities like mine, it can be the difference between seeking care and remaining in the shadows. Because of the stigma, we decided that these seminars would be a good way to talk to people about HIV/AIDS so that if a loved one disclosed to them, they would have baseline knowledge of the virus and the steps a PLHIV should take. Often times, a community based support approach can be vital to compensate for health infrastructure gaps. Due to the strong support of our village Chief we were able to host the talks at the Chief's Palace. The Chief's backing throughout the project helped encourage community members to participate.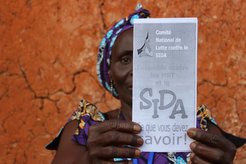 For four weeks, my counterparts and I led two sessions a week in two different local languages on topics like HIV/AIDS basics, ART adherence, prevention and transmission, and community support and reduction of stigmatization. Additionally, we split groups into men and women to foster a comfortable learning environment. I was present for the women's group and the openness of the village mamas, some over seventy years old, to discuss sex and HIV/AIDS blew me away (needless to say, we had a lot of laughs). Mr. Oumarou and Madame Larmba are both very highly-respected in our community and it showed when participant turnout the first week was over a hundred people! By the end of the series, the numbers had dwindled but we still had about forty people who attended all of the sessions and were energized to get tested! We also traveled to two neighboring villages to hold "mini-talks" and encourage their residents to get tested. One of the most impactful parts of these educational seminars was seeing the look of shock in participants' faces when they learned what a significant prevalence existed in their own backyards. More than anything, I think that it was the determination to support their community that brought people out to talk about HIV/AIDS.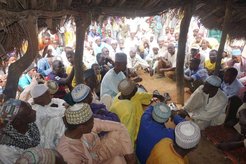 The testing campaign was a lot of work and we had to improvise at times for materials and space but all in all, there was an incredible turnout. Over two days 190 people from three villages were tested to learn their statuses. Thirteen of those tested received a positive status and of these new cases, eight have followed up with the Treatment Center to begin ART.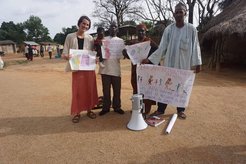 After the testing campaign I am now focusing on building my rural health center's capacity to adequately supply psycho-social care to people living with HIV/AIDS in our health area. In December, two members of an association of PLHIV will come from the regional capital, Ngaoundere, to speak with newly diagnosed patients about healthy positive living and ART adherence as well as counsel the health center staff on supporting people living with HIV/AIDS. Additionally, due to some cultural traditions in my community, some women do not always occupy public spaces. These women were unable to participate in the testing and health talks. In order to reach out to these women we are developing a strategy for culturally appropriate door-to-door education and testing options in those communities. My hope is that regardless of the geographical difficulties of the area, rural folks living with HIV/AIDS can feel supported and empowered to access resources available to them.