Promoting good health for staff through Artemisia tea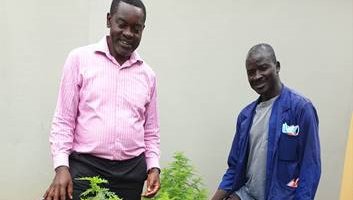 In April 2022, Peace Corps Cameroon Agriculture project team led a training for Volunteers' counterparts on improved crop production practices. Among the plants that were promoted during the training was Artemisia. Artemisia is a hardy herbaceous plant known for its powerful chemical constituent called artemisinin, which has the most rapid action of all current agents used to treat malaria.

Over the past few years the popularity of Artemisia has soared in Cameroon and the interest in growing the plant for household consumption continues to build. To offer Peace Corps staff the opportunity to enjoy the benefits of this crop, Agriculture Program Manager Njoh planted leftover seedlings from the training in the office garden space. Carefully maintained by Janitor Faustin, Artemisia is smoothly growing to the delight of staff who consume it in the form of tea.

Recipe for fresh Artemisia tea:
Pick and wash a few fresh Artemisia leaves. Put them in a cup, add boiled water and cover for 10-15 minutes. Sieve, add honey or sugar to your taste, and enjoy!