Opening a public library to promote reading culture and learning in the community
When a strike broke and schools were closed in the region where science teacher Maiya was posted, students no longer had access to libraries.
As the strike was prolonging, it became more and more apparent to Maiya how essential a public library would be to the community, to promote a reading culture and learning in one's everyday life. The literacy workshops for children and evening literacy classes for adults that Maiya was leading in the meantime only confirmed her thought that opening a library would highly benefit the community.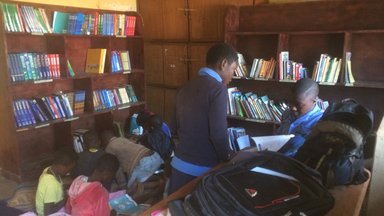 As she had already collected some books,  Maiya began to search for more books and a space for the library. After a long search and trials at other venues, she heard about a small library just near her house initiated by a students' union. It was hidden and always locked because there was no funds to pay a librarian. However, the students' union had collected a large number of textbooks and had a good space in the old council building. With their permission, Maiya took it upon herself to look for a volunteer librarian, make a copy of the key to that building, clean up and open up the library, adding to the books' collection her own store of books, primarily for children.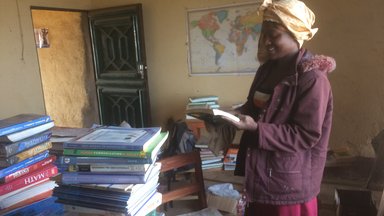 Unfortunately, at the mid-project stage, Maiya was moved to a new post. Luckily, her faithful counterpart and local primary school teacher was interested in continuing the project and took responsibility for keeping the library but attendance was low. A few months after she was moved, Maiya was authorized to go back to her former site for a few days. She collected books she had requested from friends and family and  held an opening ceremony during which she encouraged reading culture. Over 50 people attended the ceremony and gave very positive feedback. Interest in the library has only grown since then, with at least 20 visitors each week.