HIV Education to prevent risky sexual behaviors among Youths
Nov. 27, 2017
At my former site, schools were unexpectedly closed for a time. Because adolescents were not attending school, the local hospital noticed an increase of early pregnancies and sexually transmitted infections.
After attending a Grassroot Soccer training and submitting a PEPFAR grant, I came up with the idea of working with my counterparts at our NGO to facilitate a peer educator training focused on HIV prevention and safer sex behaviors. My counterparts and I distributed applications for our training to the various churches in the eight quarters of our community. Fortunately, we were able to accept 17 youths, 7 males and 10 females with an average age of 23, who came from all the eight quarters. We facilitated full day training on how quickly HIV spreads in a sexual network, the risks of having sex with someone older, how important it is to adhere to ARV treatment, and ending stigma.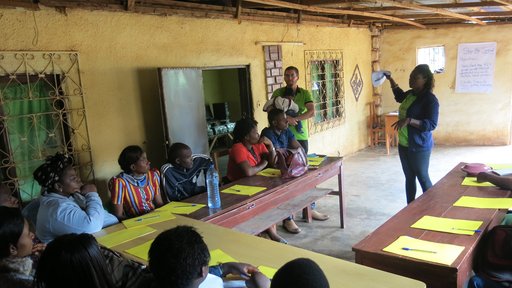 At the end of our training, each peer educator received a certificate and a free t-shirt to congratulate them and provide credentials for them to officially mobilize youths in their communities. The plan was that the newly trained peer educators would work together in pairs (one team would have a group of three) to carry out the educational activities that they learned during our training in their own quarters. Each team would carry out four activities with a goal of reaching 25 youths for each session, totaling 800 youths reached before World AIDS Day event, which will include a horse race, foot race, and football tournament while carrying out free HIV testing and counseling for youths in our community.