Community Leaders Mobilize to Combat HIV/AIDS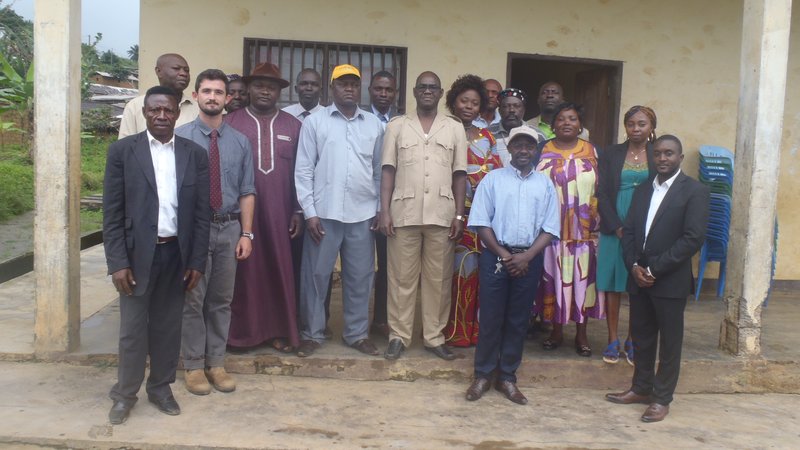 Nov. 29, 2017
My town is a place where HIV, gender equality, and health decision making are rarely discussed in a public forum.

With a large number of sexually active youth, lack of knowledge about HIV, and low usage of the medical centre, HIV awareness desperately needs to change before it results in adverse health outcomes for the district as a whole. Dr. Emakoua and Mrs. Siewe, two members of the local medicalized health center, received training at a Peace Corps Men as Partner's workshop on running comprehensive HIV and gender equality interventions with young and old audiences. After their return, we all sat down to discuss how we could best use their new skill set to benefit our community.
Dr. Emakoua noted that authority and proper protocol are quite important throughout Cameroon. In the West Region, where I'm posted, traditional chiefs also occupy a respected position. They exercise a strong influence on choices made within their communities and their words carry great weight. Both traditional and administrative authorities are therefore key allies in the effort to stop the spread of HIV in the region and in my town. We therefore decided to target local authorities with our first intervention: a workshop designed to engage men in HIV/AIDS related issues.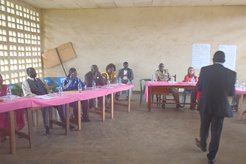 Previous attempts to invite administrative officials, school authorities and traditional chiefs had failed in the past due to their tight schedules. On this occasion, we went straight to the Sub-Divisional Officer to talk about HIV and our ultimate ambition to host a mass testing day in the community. The Sub-Divisional Officer understood the importance of the initiative and agreed to invite the local delegates of government ministries, heads of secondary schools, and traditional authorities to the training.
Our Men as Partner's workshop occurred over two days. The turnout was impressive: four superior chiefs, local ministry delegates, representatives from the three biggest local high schools, a chief of a local health center, and even the Sub-Divisional Officer himself attended, among others. As the training progressed, participants began to see that it was much more interactive and engaging than the average meeting. We had animated discussions about responsibility, the consequences of overt masculinity, and how to ensure youth in the community received positive messages about gender equality. At the end of the first day, one participant remarked that while he had initially intended to stay for a short period due to other commitments, it was so interesting that he decided to stay for the entire workshop.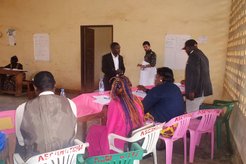 The second day concentrated on providing participants with concrete HIV information that could be communicated to the youth populations they work with. The day ended with participants having a frank discussion about the best ways to counsel youth on dealing with personal health and issues of gender. Participants then broke off into groups to create actions plans on how to translate the information that they had gained into concrete changes in the way they interacted with youth.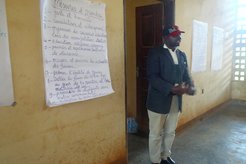 Feedback for the workshop was incredibly positive. Several of the participants expressed admiration for the way Dr. Emakoua and Mrs. Siewe facilitated discussions about difficult topics. Teachers said this workshop gave them the confidence to utilize this information in the classroom. One traditional chief remarked that there was "quite a bit that [he] did not know," but that he now intended to share with his community regarding gender and division of household tasks. The most inspiring comment of the day came from one participant who remarked that they would now be confident and comfortable in asking for the support of friends and family should they become HIV positive, when before they would not have felt safe doing so.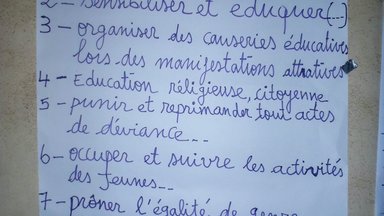 Follow-up conversations have continued in the time since the workshop. With the help of the traditional chiefs, we are moving ahead with carrying out a more expansive version of the training with young men and women from every part of our sub-division. Because of the training, we feel that we have the support of the men and women who oversee almost every activity in our health area. They, in turn, will reinforce positive messages about HIV and gender in performing their official roles. Given that youth and the population in general look to these community leaders for guidance, we feel that the community will become safer and healthier in the future.