Using soccer as a tool to teach youth about HIV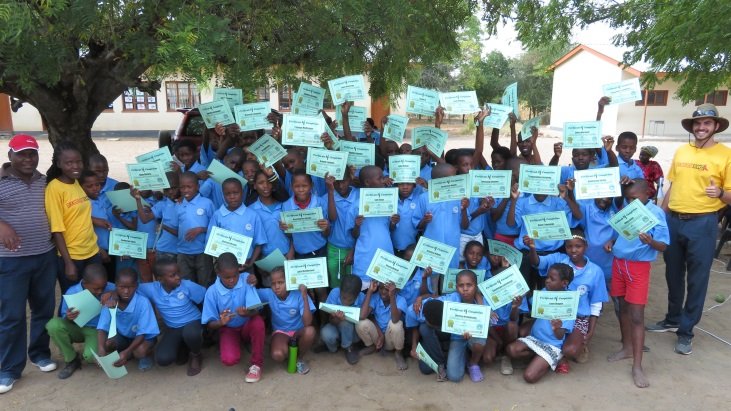 Aug. 24, 2017
Peace Corps Botswana Volunteer Darren and his co-worker Larona, a community social worker, recently participated in a ten day long camp aimed at providing psycho-social support and health education to 56 youth from rural communities across the Bobirwa sub-district in Botswana.
The Bobirwa camp was Darren and Larona's first time using Grassroot Soccer, a series of guided lessons using soccer activities as an entry point to talk about topics such as healthy relationships, positive decision making, sexual health, and HIV. Over the course of the program, the youth became more comfortable actively engaging in discussions related to the risks leading to HIV and how to help stop the spread of the disease in their own lives and communities.
The dynamic duo worked hard to create a supportive environment for youth to learn about HIV. The strong relationships they built with the youth not only made the camp fun, but also improved their measured learning outcomes. 82% of students showed positive gains in their knowledge and attitudes in the area of HIV prevention, meaning that they left the camp with more accurate knowledge about how to protect themselves from contracting and transmitting the virus. One eleven year old boy spoke about the camp saying: "Grassroot Soccer was fun! We learned that if one has tested positive for HIV, you have to make sure you take your ARVs even if you don't feel sick because you could end up getting TB and other diseases."
The Bobirwa Sub-District has one of the highest number of people living with HIV—in statistical terms known as the prevalence rate—in Botswana and also sees high numbers of sexually transmitted infections and teen pregnancies. In response to these pressing concerns, the camp was organized by the local Social & Community Development Office, in collaboration with Larona, Darren and their host organization, Bobonong Home Based Care and Trust.