How might we uplift identities and cultures different from our own?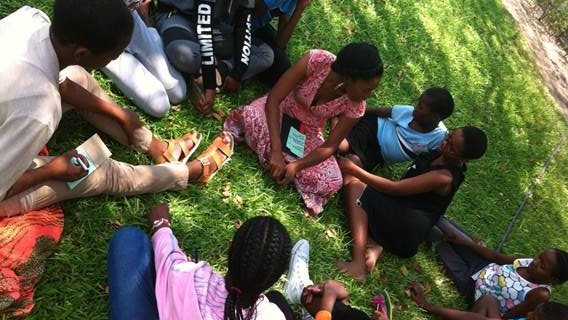 Oct. 19, 2017
Dear development workers and community partners, we may be doing it all wrong.
A recent survey conducted by Peace Corps Volunteers of color in Botswana found that a significant majority of young girls surveyed believed that non-Black girls were both smarter and more beautiful (78% and 87%, respectively). The results of the survey highlight the importance of ethnic identity, self-esteem, and self-efficacy for women of color and their physical and emotional wellbeing—and speaks to a huge gap of practice in the development community. How might we, as an industry, address the impact of self-perception on public health outcomes, especially those related to sexual and reproductive health?

Granted, the 208 primary school girls from villages across Botswana who responded to our survey makes for a small sample size. Yet, if we are to truly understand the contexts of sexual and reproductive health in Sub-Saharan countries like Botswana, we cannot afford to ignore the fact that a young girl's negative self-perception makes her more susceptible to undesirable health outcomes. With the third highest HIV prevalence in the world, young women and girls in Botswana are most at risk for contracting the virus, primarily through unprotected sexual intercourse. It is well established in the global development community that this health outcome is due in part to the biology of the cis-female anatomy (which provides a greater surface area for the virus to enter the body) as well as norms around culture and gender. Less known, however, is the role that cultural and ethnic identities play in the success of public health interventions.
In a 2013 study[1], a research team at the University of Botswana found that self-efficacy, the confidence in one's ability to carry out one's goals, was strongly linked to safer sexual practices among adolescents.  In a separate study[2], researchers also found that "ethnic identity has been found to have a 'protective' effect against negative emotional and behavioral outcomes in adolescents of color." These two studies both show one simple premise: the celebration and appreciation of one's identity, both inwardly and outwardly, can impact one's self-concept  Or, put in the health context, self-esteem, confidence, and ethnic identity inform sexual decision making.
Knowing this, how are how are we equipped to uplift identities and cultures different from our own? Development workers and volunteers around the world are striving to increase their understanding of target communities through cultural sensitivity trainings. Yet, these advances are limited and simply provide knowledge on culture norms, barriers to social change, and provides a lens through which to view communities. These trainings cannot prepare a development worker or volunteer to fully understand the effects that white, westernized standards of beauty and power have on the esteem and confidence of an adolescent girl in Botswana or any other country around the world.
Cultural sensitivity by definition is concerned with being aware that cultural differences and similarities between people exist without assigning them a value—positive or negative, better or worse, right or wrong. Cultural humility, however, is the ability to be other-oriented in relation to aspects of cultural identity that are most important to the other person. Cultural sensitivity simply says, "I recognize that you are different"; cultural humility, however, says, "I recognize that you are different, I value the importance of your identity, and I will actively work to correct imbalanced power dynamics present between us". 
As an African American Peace Corps Volunteer, I am all too familiar with the connections between self-perception and susceptibility to HIV. Adolescent girls and young women in Sub-Saharan Africa are not the only ones affected—globally, women of color are disproportionately plagued by HIV and other serious health concerns. Yet, as an American, there are still layers of privilege that create a gulf of difference between myself and the beautiful young girls in Botswana that I am privileged to interact with on a daily basis. As volunteers and development workers, we have to find ways to not only acknowledge our privileges but work vigorously to undermine and shift power dynamics that put the communities we serve in disadvantaged positions.
When faced with a young girl who questions her intelligence, unique African identity, or ability to make informed sexual health decisions, I am able to proudly affirm her and assure her because of my own self-perception and identity. Although from worlds apart, we share a common thread of self-hood as young black women living in a world where we are not yet celebrated in many places. Yet, are all volunteers of different races, ethnicities, and nationalities equally prepared to uphold this charge? As an international development community, are we holding ourselves accountable for continual self-reflection to correct power imbalances resulting from our personal privileges?
As partners in development with our communities, we should be able to unequivocally proclaim the importance of those who do not look, sound, or live like us—even when it makes us feel uncomfortable. In our communities, we should actively analyze and consider 
all
determinants of health, even those that question our own privilege. If this isn't the case, is it possible that we're doing it wrong? Ladies, gentleman, and others: we have work to do.
---
[1] Mosime, S., Pheko, M., Tlhabano, K., Chilisa, R. (2013). Self-Efficacy, Self-Esteem, and the Intention to Practice Safe Sex among Batswana Adolescents. IOSR Journal of Humanities And Social Science (IOSR-JHSS) Volume 9, Issue 2, 87-95.
[2] Beadnell, B., Stielstra, S., Baker, S., Morrison, D., Knox, K. (2003). Ethnic Identity and Sexual Risk Taking. Psychology, Health & Medicine, VOL. 8, NO. 2, 187-198.