Samirath's story is one of hope. She overcame some of the biggest obstacles that young girls her age face, continuing her school and striving to finish her education with limited resources, while caring for a young son at home. She has a lot of promise, and I know she will go far if given the chance.
I first met Samirath on a warm morning in mid-October, 2014. School hadn't yet started for the year, but a few of the new middle school students had arrived to start sweeping out the yard, their khaki uniforms freshly tailored and washed. The older kids were nowhere to be seen, knowing full well that classes wouldn't begin for another week. Weeds and sticks littered the yard, having lain dormant during the long four and a half month summer vacation. For the first hour or so, the kids swept the yard with their brown twig brooms, hunching over and moving from side to side in a rhythmic pattern, creating a half-moon pattern on the sand. Small piles of debris formed, scattered in various locations across the yard. Yet because they were left unsupervised, the brooms were quickly thrown aside and the khaki uniformed kids stood in groups under the trees, laughing and chasing each other through the yard. A few teachers milled about, talking to the school administration and lounging on their motos under the mango trees. On the other side of the school yard, I stood in the front of a 12th grade classroom, the green stone chalkboard at my back, looking at a group of about twenty tenth and eleventh grade girls. Most were dressed with brightly colored fabric wrapped around their waists and t-shirts, and only three of them were wearing their khaki school uniforms. They were looking at me expectantly, wondering what this strange American was doing at their school, and why they were called into school a week before classes began. I had only been in my village for about two weeks, and my French was still pretty bad. I stared back at them.
My counterpart, stood somewhere nearby, waiting expectantly for the session to begin. I looked at him, and took a deep breath as I began to speak in French. Just as I introduced myself, the Director strode into the classroom and demanded the girls' attention. He looked around and pointed to the three girls wearing their khakis. He said something along the lines of: "These girls are dressed properly and are prepared to be serious and motivated. The rest of you are not being respectful, so you can leave." There was a scramble to grab notebooks and pens, as the girls bolted out the door. Director turned back to me, gave me the go-ahead, and left. Well, okay then. I turned back to the three girls and re-introduced myself. I explained that they were here to answer a few questions about themselves, their future goals, and the role of women in Benin, and that two of them would be selected to participate in the Scholarship Girl Program.
Peace Corps Benin's Scholarship Girl Program involves participating volunteers choosing two girls that demonstrate the most financial need as well as high scholastic aptitude to receive a scholarship that pays their school fees and supplies. In addition to financial assistance, the girls receive mentoring from the volunteer during the year.
Samirath was sitting quietly in the front row, her notebook and pen lying neatly on the desk. Three hours later, I was sitting in the Director's office with a team of teachers reading over the essays.
It was a unanimous decision that Samirath was to be selected for the program. She had good grades, answered the questions clearly and concisely in her essay, and was well-liked in the community. Many young girls in Benin have trouble expressing themselves and their opinions, as they are taught from a young age that women are to be submissive and that their opinions don't matter. They sit quietly in the back of classrooms, and hardly participate in classes. The Scholarship Girl Program is designed to give girls self-confidence and encouragement to achieve their educational goals through mentoring and financial support. Samirath was one such girl. She was 16, in the 11th grade, and had one of the highest moyennes (grade point averages) in her class.
Samirath is genuine, generous, strong, determined, responsible, positive, friendly, and a little shy. She is kind and helpful, and a role model for other girls. She loves to sing, and loves dressing up. She loves Philosophy and English class. As the months went on, I learned more about her. At home, Samirath lives with her mama and a young cousin, as her father left the family and married another woman. He has a separate family, and Samirath is not often in contact with him, and doesn't receive support from him. Her mama is a tailor, and helps young female apprentices learn the trade. Mama is also the president of a local women's groupement, with about 50 women, and she participates in many community events and gatherings. Samirath's mother is a single-working mom, and is determined to work hard and support her little family in any way she can.
When Samirath was 15, she got pregnant, and at the age of 16, she gave birth to a son. When I met Samirath, her son Precieux was eight months old, just starting to scoot around. Samirath's story is similar to many young Beninese girls. One of the biggest obstacles young girls face is early pregnancy, and a lack of health education. They drop out of school due to lack of financial resources, family support, and they must care for their children themselves, usually without any support from the absent fathers. Luckily for Samirath, her mother cared for the child and Samirath was able to continue going to school.  At home, she worked hard to help her mama and care for her son, while at the same time studying for school and being an active member of the community. She joined the girls' soccer team, and became a leader and role model for the other girls. She helped me with various community projects, from planting a small Moringa garden to facilitating a training session on girls' education for her female peers, from being a leader on the soccer team to facilitating a malaria training and bed-net distribution at school.
In January 2016, as an alumnus of the Scholarship Girl Program, she was invited to attend the Let Girls Lead Summit in Lokossa. Internationally renowned Beninese artist and founder of Batonga, Angelique Kidjo, the American Ambassador to Benin, Madame Lucy Tamlyn, the Peace Corps Director, Peace Corps staff, community officials, volunteers, and her fellow Scholarship Girls were in attendance. Angelique Kidjo came to deliver an extremely motivational message of the importance of staying in school. Afterwards, Samirath walked right up to her, introduced herself, and told her she wanted to sing for the guests. She stood in front of the group, knees shaking, and sang her favorite song by Angelique Kidjo. This young girl, who was shy and un-confident when I first met her, was standing in front of a large crowd, singing her heart out. I was so proud of her for getting the courage to get up there and sing for everyone.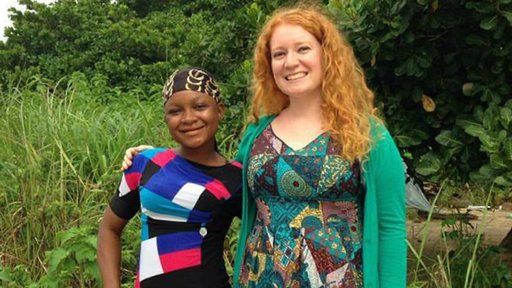 During the Scholarship Girl Weekend a few months later, Samirath was again invited as an alumnus to facilitate and lead sessions for the attendees. She was a junior tutor and helped motivate and lead the other girls throughout the weekend. Her self-confidence, self-esteem, motivation, work ethic, and desire to be an active community member grew throughout the two years I worked in her village. It was an amazing journey of growth and self-discovery for her, and I had the honor and privilege of watching her transform from a young shy girl, to a strong and determined young woman.
In June 2016, Samirath took her 12th grade exams. For the 2015-2016 school year, only about 14% of all 12th grade students in the country of Benin passed the BAC exam. Sometimes students repeat the 12th grade multiple times, and some students drop out because they can't pass the exam. At Samirath's high school, a total of 125 students sat for the exam, and when the results came out a month later, they showed that only 11 students passed, three of whom were girls. Samirath was one of those girls.
Samirath's story is one of hope. She overcame some of the biggest obstacles that young girls her age face, continuing her school and striving to finish her education with limited resources, while caring for a young son at home. She passed her 12th grade exams on the very first try, and graduated high school. She set a goal for herself, and she worked hard to achieve that goal. At the beginning of this year, she started attending university. She has a lot of promise, and I know she will go far if given the chance.
This young woman will go far in life, and I have every confidence in her that she will someday make a difference, not only in the development of her country, but in the lives of young girls. She needed someone to believe in her and give her a chance, but it was her own strength of will and determination that got her to where she is today. Someday she will be a role model for young girls in Benin, and she will give them something that was once given to her. She will give those young girls the gift of hope, a hope for a brighter and stronger future, and she will believe in them.