The summers Peace Corps Volunteers have in Belize.
As a health Volunteer, I find myself doing several education projects, and this summer was no different. 

With not much going on in the summer, and understanding the education need in my community, my counterpart and I decided to start summer classes.  Small project, we thought, after conducting a community survey to gage the interest of the community; we realized that this project would consume our entire summer.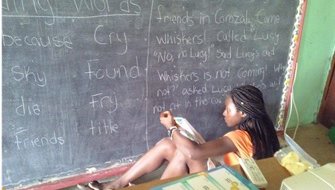 The classes were divided into different grade level; Infant I & II on one day, Standard I &II, Standard III & IV and Standard V & VI.  The classes were composed of an hour of language arts and an hour of math. These classes have been one of the most invaluable learning experiences of my Peace Corps career thus far.  Patience is something I thought I had, but realized that I needed more, especially teaching infants. I had to constantly remind myself that although I found the topics I was teaching easy, it was not as easy for my students.  Seeing how excited they were to learn motivated me to try harder and look for more resources to teach.
I did not fully comprehend the impact until school started.  Listening to students give answer to topics they have not cover in class and attributing that to the summer class made me proud. The infant teachers have told me on several occasions how well the kids learn in summer.  It is amazing to see these young kids excited about education.