Starting my service at the community clinic
It all began on a quiet day in my second week of service.
I had met the maternal health nurse at a Parents Teachers Association meeting within my first few days of arriving at site, so I decided it might be a good idea to show up at the clinic to see if the nurse had some spare minutes to meet with me. So on a hot Thursday afternoon, I began my two and a half mile walk to the satellite clinic, wondering if I was in way over my head by thinking I could be a valuable work-partner to a professional nurse. When I reached the clinic I was greeted by the secretary looking me up and down, wondering what on earth this white man was doing at a village clinic in the middle of nowhere. Feeling nervous, I started to wonder the same thing. Luckily for me, I shouldn't have worried.
Right from the start, the nurse made me feel welcomed and assured me that my knowledge and skills could be useful at the clinic. She told me to first join in on mobile clinic days, where each week a truck takes the nurse and caretaker to little villages off the beaten path to reach mothers and their babies that might find it particularly challenging to make visits to the clinic. And so I was picked up the following Tuesday for my first mobile clinic. We searched for infants and young children based on their need for updated vaccines. When we found them, we would weigh and measure each child to show the mother their child's progress in their early childhood development. Each visit would include nutrition education based on where the child stood in their development to provide the mother with the knowledge needed to make healthy choices on behalf of their infants and young children. On my first mobile clinic I observed the nurse and caretaker greeting each mother by name, asking them about their personal lives, inquiring about their physical and emotional health, and overall treating each patient as old friends they were eager to visit. This taught me one of the most important prerequisites to success at the clinic: in such rural areas where privacy can be difficult to come by, a healthcare professional must proactively build trust and rapport with their patients. My primary strategy to achieve this was to use the local language as exclusively as possible, asking patients for advice and guidance on my journey to language mastery. As I provided mothers with education on nutrition and early childhood development, they taught me the language and provided cultural insights. This created a two way street of learning from each other, establishing us as equals.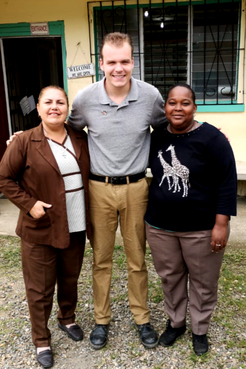 From that first Tuesday of being picked up by the mobile truck, the clinic became the cornerstone of my service. I expanded my involvement to 4 days on a typical week. Mondays for child health, Tuesdays for mobile clinic, Wednesdays for pregnancy checkups, and Thursdays for new pregnancy bookings. Together, Nurse and I designed nutrition education sessions catered for each different day with the goal of empowering mothers and caregivers to make healthier choices for themselves and their children. I also began to assist in a wide variety of small tasks, from checking blood pressure to helping the caretaker organize paperwork and educational materials. Every small task I assisted with, every personal conversation had, and every child I managed to calm on their way to see the nurse helped me to build rapport with the clinic and its patients. Now with sixteen months at the clinic under my belt, a vast majority of the mothers and pregnant women that come through are familiar with who I am and trust what I have to say. The nurse and caretaker frequently ask for my thoughts and advice on a variety of health topics. And while it feels great to have succeeded in becoming a true member of the clinic family, I didn't do it on my own. My proactivity to integrate into the clinic was accelerated by the kind and welcoming nature of Belizean culture. Both the nurse and caretaker went out of their ways to ensure I had a voice and distinct role among the staff, and the patients I worked with were quick to make me feel like a welcome addition to their routine. Working with these exceptional counterparts and wonderful community members has been a highlight of my service and is sure to be an experience that I value for the rest of my life. What a privilege it truly is to serve as a Peace Corps Volunteer.