Belize
This list has been compiled by Volunteers serving in-country and is based on their experience. Use it as an informal guide in making your own list, bearing in mind that each experience is individual. There is no perfect list! You obviously cannot bring everything on the list, so consider those items that make the most sense to you personally and professionally. You can always have things sent to you later. As you decide what to bring, keep in mind there is a 100-pound weight limit on baggage. And remember, you can get almost everything you need in-country. 
Baggage & Weight Limit
The Peace Corps limits the size and weight of baggage and will not pay to transport baggage that exceeds these limits. The allowance is two checked pieces of luggage with combined dimensions of both pieces not to exceed 107 inches (length + width + height) and a carry-on bag with dimensions of no more than 45 inches. Checked baggage should not exceed 100 pounds total with a maximum weight of 50 pounds per bag. Peace Corps Volunteers are not allowed to take pets, weapons, explosives, radio transmitters (shortwave radios are permitted), automobiles, or motorcycles to their assignments. Do not pack flammable materials or liquids such as lighter fluid, cleaning solvents, hair spray, or aerosol containers. 
To help you determine what to bring and what to wait on, or purchase and pack for future shipment to Belize, consider the following: The first three months in Belize you will be in training, traveling back and forth across the country by bus and on foot, and you will be in homestays where you will not need household goods. You will also be given a lot of heavy training materials to carry. You are responsible for all duties and fees for packages sent to Belize. Outdoor markets in Belize sell secondhand clothing from the States so you can pick up extra T-shirts, pants, and skirts.
Luggage
Sturdy cross-country hiking pack  and daypack 
Sleeping sack or sleeping bag that compresses to a small size

General Clothing
Belize is hot and humid all year. Quick-drying fabrics are absolutely indispensable and lightweight cotton fabrics will help ensure a more comfortable work environment. Belizeans dress modestly and appreciate professionalism in dress. Bring a few light layering pieces for cool weather, indoor air-conditioned events, or to turn a recreational outfit into a work outfit. Seamstresses can sew custom clothing such as school work uniforms.
Indoor Work Environments
Lightweight pants, khakis, or skirts 
Short/long-sleeved button-up shirts 
Dresses 
Lightweight cardigans 
Short, mid, or long-sleeved blouses (no sleeveless or tank tops) 
Lightweight dress jeans 

Outdoor Work Environments
Lightweight pants (to protect against bugs and the sun) 
Lightweight long-sleeved shirts (to protect against bugs and the sun)
Short sleeve button down 
Lightweight jeans (for agricultural or recreational activities) 

Recreational Clothes
Walking-length shorts 
Breathable, lightweight rain jacket sweater or hooded sweatshirt 
Lightweight long-sleeved shirts 
Long socks 
Workout leggings or tights
Football boots/shin guards 
Running/football shorts 
Tank tops
T-shirts

For Women
Mesh shorts/T-shirts (to wear over a bathing suit when swimming) 
Lightweight, no-iron dresses 

For Men
Rip-stop or quick-dry pants that can be unzipped into shorts 
Lightweight cotton T-shirts 

Shoes
Be prepared to walk a lot on muddy, dusty roads. High-quality shoes need to be brought or sent to you. 
Sturdy flip-flops 
Durable sandals (Chacos or Tevas are sturdy) 
Trail/running shoes 
Professional, comfortable work shoes 
Rubber boots for men size 12 or larger (you can purchase rubber boots in Belize, but larger sizes are difficult to find) 

Personal Hygiene and Toiletry Items
Three-month supply of any medications, to last through pre-service training; copy of prescriptions
If you wear glasses, bring two pairs (contact are not recommended due to elevated rates of eye infections and contact solution is hard to find)
Most toiletry items can be easily found in Belize. If you prefer a specific brand, bring one month's supply, then ask friends/family to ship some more later during service. For those who wear contacts, the Peace Corps does not provide contacts or solution. Multipurpose solution is sometimes available in Belmopan, but it is approximately five times more expensive than in the States. Consider bringing a few bottles to start you off and then have someone send or bring bottles. Peace Corps discourages you from using contact lenses during your service to reduce your risk of developing a serious infection or other eye disease. Consider switching to glasses, and bring an extra pair for emergencies. 
During PST, supply of feminine products will be available at the Health Unit. At the end of PST, your PCMOs will discuss how you will be able to obtain a supply during service.
Sunscreen: you should bring your own supply. Peace Corps does not supply sunscreen. 

Electronics 
You will want and need to download all software before you leave the States. 
Laptop (highly encouraged)
A lightweight case or bag to guard against moisture 
External hard drive/ Surge protector 
Mini-Speakers 
Two 4GB–8GB flash drives 
E-reader or tablet for games
Audio player 
Waterproof camera 
AA battery charger and a couple pairs of rechargeable batteries 

Note: When thinking about bringing electronics, always keep your safety in mind! Traveling with a lot of expensive equipment can easily make you a target for thieves. 

Kitchen
You will not need much kitchenware as you will be living with a family who will likely have all the necessary kitchen equipment already. It is best to see what your living situation will be before buying or bringing anything. If needed, you can buy pots, pans, and basic kitchen utensils in Belmopan. If needed, you can have high-quality kitchen knives or other specialty items shipped to you later.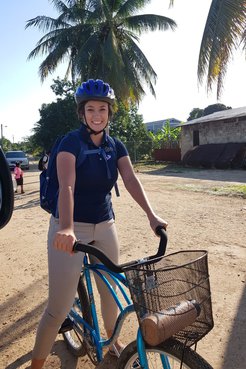 Miscellaneous
Small gifts for host family and friends (not required); small household items; pictures, books, or calendars of American scenes; souvenirs from your area; hard candies that will not melt or spoil; photos to give away
Water-resistant wristwatch 
Hats 
Sunglasses 
Good quality, collapsible umbrella 
Headlamp and/or flashlight 
Daily/monthly planner 
Books/e-books (materials to start the hobby you've always wanted to begin)
Knife or multipurpose tool 
U.S. candy (non-chocolate) 
Laundry bag 
Bike tire level (to change flats) 
Sewing/patch kit 
Duct tape (brands in Belize are not as strong) 
Good bike locks 
Eyeglasses with plastic frames and transition lens 
Protective case or carrier for electronics
One pair of sheets (twin/full)
Two to three light to medium-weight quick-dry bath towels 
One pillow
Sturdy water bottle such as Nalgene or REI, along with a sturdy carabineer clip