Belize
Living Conditions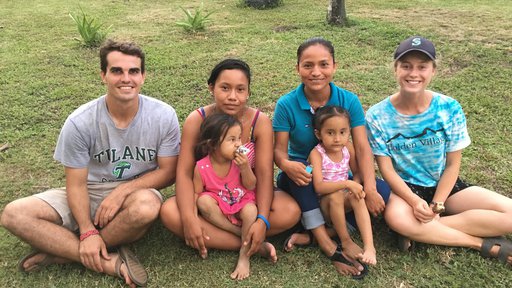 Communications
Mail
The mail in Belize is generally reliable, though it can be slow. Individuals must go to a local post office to check whether they have received mail. Often in rural villages, one person is responsible for collecting and distributing all mail addressed to people in their village. It is best to wait until you are at your permanent assignment to begin receiving care packages. To receive letters or small packages during training, please have them mailed to:
"Your Name"
Peace Corps Office
P. O. Box 492
7069 George Price Blvd.
Belmopan City, Belize
Telephones
Volunteers will be asked to bring their own device for which Peace Corps/Belize will issue a SIM card from one of the local providers. The device must be unlocked in the United States before it can be used in Belize. Volunteers who are unable to bring their own device will be issued a cellphone shortly after they arrive in country. The phone plan issued will not allow international calls, but is able to text international phone numbers at an additional charge.
Internet
Many Volunteers bring laptop computers to Belize and are highly encouraged to do so since they are extremely useful in preparing for lessons and for completing reports. Before deciding to bring your devices, you should consider insuring your valuables before departing the U.S. The Peace Corps office in Belmopan has two desktop computers with Internet access, a printer, and scanner available for Volunteer use.
Housing and Site Location
Trainees and Volunteers will be required to live with a Belizean host family in pre-service training and in their assigned community for their entire 27-month tour . Living with a host family will enhance the Trainee/Volunteer's safety and security, language learning, and community integration. Housing will be modest and Trainees/Volunteers will need to ensure that they are prepared to cope without many of the amenities they have in the United States. All trainees and Volunteers will have, at a minimum, a room in their homestay equipped with a bed, mattress, and other basic furnishings. However, trainees must be willing to live in homes where the family structure, dynamics, and daily practices are vastly different from the United States. This may include having to live with young children and/or extended family members. Living with a host family will require an open mind, cultural sensitivity, patience, and great flexibility and may mean the loss of some personal independence, adhering to curfews, and living in a home with either young, teenage children and/or extended family members. Volunteers are assigned to diverse communities throughout Belize.
Living Allowance and Money Management
Volunteers receive a monthly allowance in local currency that is sufficient to live at the level of the local people. The allowance covers food, housing, household supplies, clothing, transportation to and from work, utilities, recreation and entertainment, and incidental expenses. Peace Corps Volunteers are expected to live at a level that is comparable with that of their host country counterparts. The Peace Corps discourages Volunteers from supplementing their living allowance with personal funds.
Food and Diet
The staple diet in Belize is composed mainly of rice, flour, corn, beans and chicken. Garden vegetables, bananas, oranges, watermelon and other local fruits are available year-round. The main meats in Belize are chicken, beef, pork and fish, which can be purchased at local markets and supermarkets. There are some Belizeans who also consume other local game meats, such as deer, armadillo, iguana, turtles, and gibnut. Most communities have supermarkets where food items such as butter, bread, sugar, eggs, cheese, vegetable oil, and milk can be purchased. A vegetarian diet might be challenging in the Belize as smaller communities may not have a variety of fresh fruits and vegetables readily available. Soy and other plant-based products are available in larger towns/cities. Your dietary needs including any food allergies will be important information for you to share with your host family. Peace Corps staff is also available to discuss options in meeting your dietary needs.
Transportation
Peace Corps Volunteer must abide by the PC Belize Transportation Policy. This policy guides Volunteers on the safest transportation methods and provide information on prohibited travel methods and areas. For example, the Peace Corps prohibits Volunteers from driving or riding on two- or three-wheeled motorized vehicles and from owning or driving private cars. Violation of these policies will result in the termination of your Volunteer service. Many Volunteers walk or use bicycles to get around in their communities. Volunteers must wear helmets whenever they ride on bicycles. Another form of public transportation within cities and towns are taxis. To travel outside of their communities, Volunteers will use public buses. Buses to main cities and towns operate regularly.
Social Activities
Social activities will vary depending on the community you live in. Generally there are local festivities, sporting events, dances, or town fairs. The country also has Mayan temples and wildlife reserves to explore. In spite of these attractions, Peace Corps Belize encourages Volunteers to spend as much time as they can in their sites to accomplish the Peace Corps' Second Goal: helping promote a better understanding of Americans on the part of the people served.
Professionalism, Dress, and Behavior
Belize is socially more aligned with popular cultural trends but professionally, it is a conservative country. Personal grooming and appearance is very important as a development professional. As a Peace Corps Volunteer you must understand that maintaining a clean and neat appearance and attire is a necessity when it comes to earning the respect and trust with Belizean communities. You are required to act and dress according to Peace Corps Belize's attire and personal appearance policy at all times, including when you are at the Peace Corps office. Tank tops, ragged, dirty jeans, summer shorts, short skirts, and flip-flops or other open-toed sandals are not permitted during work activities including during travel for work related reasons.
Teachers in Belize wear school uniforms to school (as well as all students) and Youth Health Volunteers will be expected to do the same. In general, most Volunteers wear "business casual" clothing when working outside of the classroom and when attending training events. During none working hours, the Volunteer's attire may be more casual, but should still reflect cultural norms and appropriateness.