Community Leader Continues Free English Tutoring Classes for Students
For the past twenty-five years, Peace Corps Volunteers in Armenia's northern region, known as Lori, have been making strides to improve the English education of Armenian students and educators. 
In Lori's major regional city of Vanadzor, Volunteers have also been supporting and cooperating with local organizations some of which provide free English instruction to underprivileged students. One shining example of such work is found on the top floor of an old Soviet apartment complex in the suburbs of Vanadzor. At Heghine Sheikha Children's Advocacy organization, children aged eight to fourteen sit around a table to practice their English with a Volunteer and the director of the organization, Heghine Movsesyan. The atmosphere is jubilant as they play and learn from their English vocabulary word games and exercises. Surrounded by a warm, cozy environment full of laughter it feels more like their home than a classroom. That is exactly how Heghine Movsesyan wants the children to feel. "I want them to be at home not as if they are in a classroom," Heghine said with a smile.
Despite Ms. Movsesyan's small stature, she thinks big when it comes to the future of English education in Armenia and understands the importance of education for all. Inspired by her grandparents, she decided early in her educational career that she wanted to study hard, gain wealth, and help others simply because, "it makes life more interesting." She quickly learned that she had a knack and a passion for languages. She studied languages intensively and her mother paid for private lessons by selling the family's heirlooms to help cover expenses. After graduation from high school, she enrolled in the Vanadzor State Teacher Training Institute and later completed her master of foreign languages both with full scholarships.  Her love of languages brought her to primarily focus on English and German, but she is also literate in Latin, Italian, Arabic, and Urdu. "I really prefer the hard copy books," she said with a wink.
Ms. Movsesyan wanted to put her education to good use and applied for a position at the Ministry of Emergency Situations and Territorial Administration in 2012. However, only in the summer of 2014, after much hardship, the governmental agency selected Ms. Movsesyan and four others out of an applicant pool of 240 for a 9-1-1 position and she quickly advanced the bureaucratic ladder. She considers it the greatest accomplishment of her life. "I was so happy because I felt like I accomplished something for the first time by my own merits."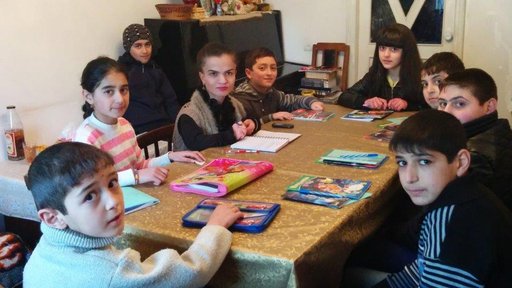 Once Ms. Movsesyan was hired she felt as if she was better able to work on behalf of the Vanadzor community. She said, "My life mission is to help others," and she opened her organization and with the help of Volunteers from Vanadzor she gives free tutoring for thirty disadvantaged children in the Vanadzor community. Her organization even covers the children's transportation costs for the children. The mission of the organization is to work with the underprivileged children until they enter university. She plans to work with the children every week beginning with the alphabet until they reach an advanced level of English. Ms. Movsesyan, the Vanadzor-based Volunteers, and the children have already noticed positive results from the classes. The children have reported higher graders and, more importantly, their confidence in the language has increased significantly.