Youth from Dibër Develops Website for Tourism
The Dibër region in Albania offers an active vacation, boasting the country's highest peak, Mount Korabi, and thrilling rafting excursions on the pristine waters of the Drin River. Despite considerable investments under USAID's Diber Trails and Tradition project (here) in developing guest houses and hiking trails over the years, the region lacked an accessible online platform to provide resources for tourists planning trips to Albania.
Recognizing the potential to create a tailored website for international audiences while also harnessing the talents of local youth in Diber, a unique development opportunity emerged. Aligned with the Peace Corps' ethos of collaborative development, Alex initiated a partnership with Arber Tusha, an 18-year-old graduate from Said Najdeni.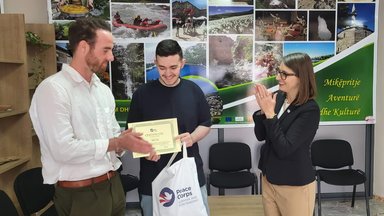 Arber, a self-taught web developer, played a pivotal role in crafting a comprehensive website complete with tailored maps and guides in multiple languages for tourists. This online hub not only furnishes vital information for visitors but also acts as an extension of the physical Dibër Tourist Information Center, amplifying the reach of information.
Arber's dedication to website development proved transformative. The resulting site – www.visitdiber.com - offers an array of comprehensive maps and guides catering to tourists' planning hiking or mountain-biking trips in Dibër. The collaborative efforts of the Peace Corps volunteer and local youth materialized into this innovative website which now draws monthly traffic of over 500 visitors, underscoring its popularity among both locals and foreign tourists.
In recognition of Arbër's exceptional contributions and leadership, Country Director Megan Wilson along with Alex's counterpart Lindita Manga of ALCDF visited the Tourist Information Center in Peshkopi to present him with a special certificate of appreciation.
#youthengagment #worldyouthday #webdevelopment #albania'sfuture