Getting into the Swing of Things
By Idorico Sebastiao "Sebastian"
As an avid fan of Sci-Fi, I can't help but draw parallels between the Peace Corps and the mission of the Starship Enterprise. Both go on a mission to explore new worlds, to seek out "new" civilizations, and in the case of the Montenegro-based volunteers, to boldly go where no man has gone before. The Enterprise's mission was a 5-year mission, and 5 years ago I was a second-year senior at the College of Coastal Georgia, applying for my first post, The Republic of Moldova, as a Health Education Volunteer.
Five years later, the desire to explore, and to get a better understanding of cultures both foreign and domestic. I was evacuated from Moldova in March of 2020, due to the COVID-19 pandemic, and in the summer of 2021, I was serving domestically as a Peace Corps Response Volunteer, supporting FEMA's vaccination and outreach activities in Maryland and Virginia.
After almost three months in the country, I feel like I'm slowly getting into the swing of things. My days are a mix of translating lesson plans from Romanian to Albanian, observing lessons, co-facilitating an English club, or just hanging out in the teachers' lounge.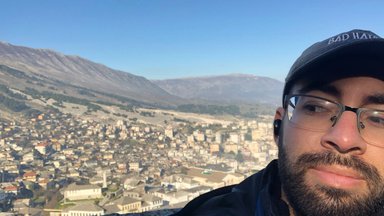 My host family is also great, I love the food, and their unwavering patience. After four host families, I finally have a host sibling that lives under the same roof as me. More importantly, they're also as soccer-obsessed, as I am, so coming during the knockout stages of the World Cup, I felt was good for acquainting myself, with my new family.
In my site, I'm also adjusting to a different environment not only a socio-cultural one but the physical environment as well. I spent the last two years in the small beach town of Mexico Beach, Florida; whereas here I'm flanked by mountains. I also have a river that hugs my town.
Although I've been here for two weeks, I'm still taking pictures of clouds that envelop the mountaintops, because it still feels new and foreign to me. However, the one thing that doesn't feel as foreign, is the overall sense of community I'm feeling, and how welcoming the people are. My Peace Corps Medical Officers probably aren't thrilled with the sheer volume of caffeine I'm ingesting, but who am I to get in the way of the practice of integration through caffeination?
Because I opened by quoting Star Trek, I feel it is only fitting that I also close with a Next Generation quote from the season one episode "Skin of Evil." I feel like it's applicable, because it applies to not only where I think of everyone in my cohort, but also all the volunteers I have served with; they all have "The heart of an explorer and the soul of a poet."
They not only are cognizant of what's happening around them, but they also have the insatiable desire to learn about the cultures around them. They're facilitating dialogues and in promoting mutual understanding, they're creating dialogues that might not have occurred at the grassroots level.