Stomping Out Malaria in Africa
Since launching Stomping Out Malaria in Africa in 2011, the Peace Corps has trained and sent over 800 specialized malaria prevention Volunteers to serve in communities across Africa.
---
Our Work
Stomping Out Malaria in Africa was built on the vision that through strategic partnerships, targeted mobilization of human resources, intelligent use of information technology, and radically efficient use of seed funding, the Peace Corps will focus the efforts of Volunteers in sub-Saharan Africa to make an immediate and measurable impact in the fight against malaria.

The Stomping Out Malaria in Africa Initiative has three key pillars, or goals:
1. Working at the Grassroots
We work to ensure every malaria-impacted Peace Corps Volunteer community, from rural to urban, has universal bed net coverage and comprehensive malaria prevention and treatment education programs. We look for innovation at the grassroots level, recognizing that solutions are found within communities.
2. Collaborating with Partners 
We understand the value of working with other organizations large and small. We support their efforts and we cultivate strategic relationships that allow community-driven pilots to be taken to scale. We believe that supporting strong institutions from the community to national levels is key to eliminating malaria.
3. Sharing Knowledge
We share knowledge widely, knowing that an innovative best practice identified in the smallest village has the potential to save lives across the world. We believe that there is a key role for technology – mobile phones, mapping and communications – in eliminating malaria and we support individuals and organizations attempting to leverage technology.
To learn more and see our Volunteers in action, check out these Stories. 
Get Involved

If you're interested in joining our fight to end Malaria, here are some ways you can get involved.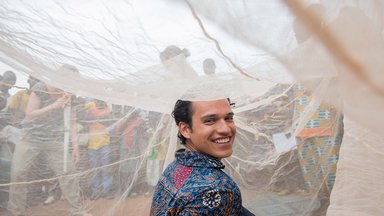 Donate
Directly support on-the-ground projects that our Volunteers and their communities have designed to prevent malaria. 100% of your contribution goes directly to the project.

Apply
Are you a returned Peace Corps Volunteer looking to serve again? Peace Corps Response has a number of malaria prevention openings. Be part of the team that is making zero malaria a reality.