Cuisine from Around the World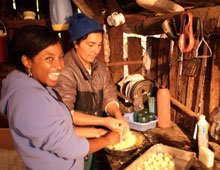 Recipes from Peace Corps Countries
From Asia to South America, trying unfamiliar foods and tasting national dishes are important steps in learning about a country's culture. Read about Peace Corps Volunteers embracing new diets. Sample cuisine from all corners of the globe from the convenience of your own kitchen.
Story
Travel to Ukraine and back to the United States with Peace Corps Volunteer John Deever as he discusses food and Ukrainian life during his Peace Corps service.
Activity
This is a pizza recipe, in Spanish, Peace Corps Volunteer Meghan Laird made several times with her women's group in El Salvador. It was the first time they had ever tried homemade pizza, and it was a huge success -- especially the pineapple pizza.
Activity
This is a traditional and very easy dessert recipe from Guatemala.
Activity
The name of this dish defines a way of eating it. "Besh barmak" means "five fingers." This dish combines homemade noodles, horse meat, kazi (highly spiced horse meat sausage), and a meat broth served separately. The non-Kazakhi population of Kazakhstan prefers a lamb version of beshbarmak.
Activity
This is a popular dish among Filipinos as well as local backpackers.
Activity
This gingery-garlicky-orange rice salad from Vanuatu is always a winner.
Activity
This is a great leftovers dish from Bulgaria, and very simple.
Activity
This is la bandera, or "the flag." It is rice, beans, and meat—the most common ingredients in the Dominican Republic. It is a very basic recipe and is cooked here almost daily for lunch, either as it is written here, or with some variations.
Activity
This is not the Jordanian national dish, but it is a very delicious and good for vegetarians.
Activity
Mămăligă is a dish made out of yellow maize, and is traditional to Romania, Moldova, and Ukraine. It is better known to the rest of the world in its Italian form—polenta.
Activity
Oriental pilaf from the Kyrgyz Republic with vegetables and raisins.
Video
Join Amy Throndsen on a culinary tour of Tongren City in China's Guizhou Province. Gain new insights into Chinese culture by experiencing markets, mealtimes, and specialty dishes of the region and consider the ways people connect with each other through food.
Featured Themes