Summer Activities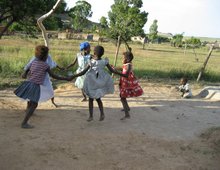 Summer in the United States is a great opportunity to enjoy outdoor activities and make the most of your vacation! Through the lens of environmental issues, cuisine, and service learning, you can add new meaning and depth to you summer activities. With the resources in this theme, discover activities that students can get involved in inside and outside of the classroom.
Lesson Plan
In this lesson, students travel to the island nation of Cape Verde where they are introduced to Peace Corps Volunteer Nathan Lee and his work of harvesting water from fog. Students will learn how fog is produced, why it is a viable source of fresh water, and how it is harvested.
Activity
Let's walk through the process of building a simple solar cooker. The blueprint I use can be found on the website solarcooking.org, where they call it the "minimum solar box cooker."
Activity
This is a traditional recipe from Guatemala. It is a very easy to cook and delicious dessert.
Activity
Try putting together this quick, sweet drink, brought back from Turkmenistan.
Photo Gallery
Try your hand at building your own bottle structure! Click on the photos to see the step-by-step instructions.
Video
Ecuador Peace Corps Volunteer Stefan Chacon discusses his work with a community group to make buttons out of vegetable ivory.
Video
Kurtis Shank served as a Peace Corps Volunteer in Peru, in South America. His primary assignment was to work with the community to develop small businesses, with an added emphasis on information technology.
Video
In the Caribbean islands of Antigua and Barbuda, Peace Corps Response Volunteer Elyse Petersen worked with agroprocessors, schools, and families to build solar food dryers that can preserve local produce for year-round consumption.
Video
In Costa Rica, Peace Corps Volunteer Katie DeWitt worked with her community to use one of their most abundant resources—the sun—to power their local biological reserve. Find out how the newly installed solar panels generated not only power, but also community-wide enthusiasm for renewable energy.
Featured Themes