Pacific Islands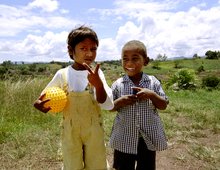 Through their work regarding health, education, the environment, and information technology, Peace Corps volunteers perform service in this vast region. Learn about issues facing this rich and diverse region through lesson plans, videos, stories, and activities. Explore these resources in order to gain a broader understanding of culture in places like Palau, Fiji, and Kiribati.
Lesson Plan
Students will wrestle with resolving contrasting values between cultures.
Lesson Plan
Students will discover that it is possible to be challenged and "culture-shocked" by the norms of one's own culture when returning home from having been away and living in another culture. They will also examine and compare the customs of modern marriages with the customs of traditional, arranged marriages.
Lesson Plan
Reading for pleasure or cultural sensitivity? Guide your students through the cultural complexities of life on a Fijian island.
Lesson Plan
Students will examine a real-life confrontation of cultural values through the experience of a Peace Corps Volunteer in Papua New Guinea.
Story
Peace Corps volunteer Eric Kroetsch describes a calm morning on the island Kuria—part of the country Kiribati—in the central Pacific.
Story
Peace Corps volunteer Carole Kallansrude writes to her friends and family, telling them about her opportunity to lunch with both the King of Tonga, as well as the new US ambassador to Tonga, Steven McGann.
Story
Peace Corps volunteer Daniel Laboe shares his experience being a racial minority in Papua New Guinea, and the peace he finds at church on Palm Sunday.
Activity
This gingery-garlicky-orange rice salad is always a winner.
Activity
Peace Corps Staff member Esera Lafi provides a simple and delicious Samoan recipe.
Video
For two years, Peace Corps Volunteer Sarah Klain helped lead efforts for sea-turtle conservation in the Pacific Island country of Palau. With local partners, she researched and tracked the marine reptiles and encouraged educational efforts to protect turtle populations.
Featured Themes