North Africa and the Middle East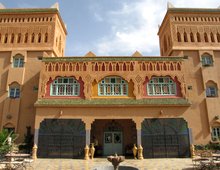 Explore North Africa and the Middle East using these lesson plans, stories, and activities. From the Arabic language in Jordan to gender roles in Morocco to traditional Afghan music, each item provides fascinating lessons for one of the world's most historical and interesting regions.
Lesson Plan
Students will investigate the extent to which water is reflected in various cultures in Africa, and write some of their own impressions of how water permeates all aspects of life.
Lesson Plan
Classical Arabic is the formal language in Jordan. It is used in books, newspapers, radio and T.V. However, you should know that the normal Jordanian conversation is often quite different from the formal language. Dialects of the people you meet will vary based on ancestry and regions within Jordan.
Lesson Plan
Students examine how the author's worldview expanded by living in another culture.
Lesson Plan
Students examine cartoons drawn by a Volunteer serving in the country of Jordan.
Story
Peace Corps Volunteer Herman Nibbelink recounts an Eritrean folk tale that revolves around two farmers, their golden cow, and riddles.
Story
Take a look at Peace Corps Volunteer Louise Pascale's personal essay on the creation of the Afghan Children's Songbook Project—an effort to preserve Afghan musical tradition.
Activity
Submitted by Peace Corps Staff Member Lana Momani, this recipe is for a traditional Jordanian dish consisting of rice, lentils, and onions.
Video
Discover the importance of non-traditional gender roles and how Peace Corps Volunteer Cortney Healy traveled the country of Morocco filming the stories of six women who are role models for global change.
Featured Themes