Latin America and the Caribbean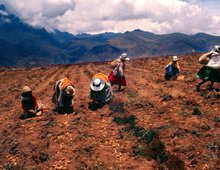 Through lesson plans, videos, and stories, explore the immense ecological and historical diversity found in Latin American and Caribbean countries such as Guatemala, The Dominican Republic, and Costa Rica.
Lesson Plan
Students examine what goes into hero worship and establishing unlikely friendships.
Lesson Plan
Students will conduct individual interviews to find out in depth how people in their own communities provide services to others.
Lesson Plan
Many Peace Corps Volunteers collaborate with their host communities to make the best use of locally available materials. Explore the stories from Peace Corps Volunteers who served in Guatemala and collaborated with community members on bottle construction projects. Then extend students' learning from these stories using the accompanying teaching suggestions.
Lesson Plan
Students will begin to familiarize themselves with the geography and culture of the Dominican Republic.
Lesson Plan
Students will learn about the nature of hurricanes: climate conditions, geographic factors and effects on human systems.
Lesson Plan
Students will implement what they have learned about serving communities by planning and undertaking a community service project.
Lesson Plan
Students will view a Peace Corps Volunteer's slide show and discuss the uses of two technologies—windmills and computers—in a Peruvian village. This lesson encourages students to explore the role of technology in society and reflect on the role of technology in their own community.
Story
In "Soccer Until Dusk," Mark Brazaitis reflects on the stark differences between the life his father chose and that of the men who gather after lunch each day in Santa Cruz Verapaz to play soccer all afternoon.
Activity
Peace Corps volunteer Cheryl Frances shares her technique for baking a cake without an oven.
Video
Learn how to build your own box cooker using Brian Lange's step-by-step instructions.
Video
Meet the women of Peace Corps Volunteer Liz Lowe's rural Costa Rican community and learn about their important and diverse roles as mothers, grandmothers, entrepreneurs, athletes, and community leaders.
Video
In Costa Rica, Peace Corps Volunteer Katie DeWitt worked with her community to use one of their most abundant resources—the sun—to power their local biological reserve. Find out how the newly installed solar panels generated not only power, but also community-wide enthusiasm for renewable energy.
Featured Themes