Language Arts & Literature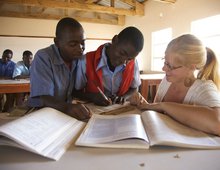 Prose, poetry, and letters from Peace Corps Volunteers will expand and enrich the lives of students by allowing them to see the world from a Peace Corps Volunteer's perspective. Strengthen reading and writing skills by reading and discussing their original works.
Lesson Plan
Students will explore literary characters and their relationships to an author and to each other.
Lesson Plan
Students will closely examine an author's philosophical look at life through superficially mundane, but ultimately meaningful, anecdotes he describes life as a teacher in Uzbekistan.
Lesson Plan
Students will examine how the author tries to capture the reader's imagination immediately through imagery--and hold on to it.
Lesson Plan
Students will examine the universal nature of folk tales and evaluate the meaning of a tale told in Togo.
Story
A poem written by Peace Corps Volunteer Katie Pepiot focusing on gender issues in her South African village.
Story
A poem by Peace Corps Volunteer Mary Ann Camp describing her country of service, Lesotho.
Story
In this poem, Peace Corps Volunteer Mark Brazaitis reflects on the differences between the life his father chose and that of the men who gather after lunch each day in Guatemala to play soccer all afternoon.
Story
In a captivating and amusing account, Peace Corps Volunteer Jim Toner shows just how challenging it is for someone to move to an unfamiliar culture and then deal with adjusting to the new environment.
Featured Themes