Global Issues: HIV/AIDS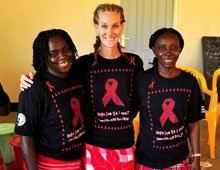 Reversing the Spread of HIV/AIDS
HIV and AIDS affect communities in every region of the world, making HIV/AIDS truly an issue of global significance. Worldwide, an estimated 33 million people are living with HIV, including more than 1 million in the United States. Learn about how Peace Corps Volunteers are working with people living with HIV/AIDS around the world and finding ways to stop this global epidemic.
Lesson Plan
These teaching suggestions are designed to support interdisciplinary exploration of the issue of HIV/AIDS.
Lesson Plan
Students will investigate what HIV/AIDS is, how it is caused, how it is transmitted, and what its effects are. ("HIV" stands for Human Immunodeficiency Virus. "AIDS" stands for Acquired Immune Deficiency Syndrome.)
Story
Learn how Peace Corps Volunteer Rashid Khan used a mostly-broken cell phone, a mostly-broken computer, and his IT expertise to create a virtual health education hotline in Namibia, fielding thousands of sexual health and HIV/AIDS questions sent anonymously via text message.
Story
Read the stories of Volunteers and their efforts to prevent the spread of HIV/AIDS in their communities.
Article
Introductory information on this global epidemic.
Activity
Investigate the issue of HIV/AIDS, including common misconceptions about the disease, its impact in the United States and the world, and what Peace Corps Volunteers are doing to support communities dealing with HIV/AIDS issues. Then develop a message to help educate people in your community about HIV/AIDS.
Featured Themes