Global Issues: Women's Empowerment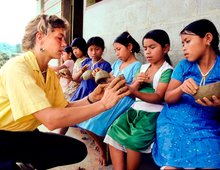 Reducing the Global Gender Gap
Women's empowerment: increasing a woman's access to opportunities, control over her own life, and ability to effect change is an essential part of attaining gender equality. While the United Nations has declared gender equality a human right, the world still faces a persistent gender gap. Global trends show that women typically have fewer opportunities for economic participation, less access to education, greater health risks, and less political representation. Read about Peace Corps Volunteers' efforts to empower women and close the gender gap.
Lesson Plan
Students will read and discuss "Declaration," a poem written by a Peace Corps Volunteer serving in South Africa. Students will focus reading and discussion on issues of gender as they appear in the poem.
Lesson Plan
Water provides an excellent lens for studying gender roles. In this lesson, students compare the division of labor in water-related work in rural Lesotho with their own households. By doing this, they will gain an understanding of the multiple factors that influence how gender roles are established in different societies. This lesson culminates with students writing letters in the voice of visitors to the United States from Lesotho.
Story
In this story, Peace Corps Volunteer Angela (Rich) George describes cultural norms related to gender and work in her host community in Dominican Republic.
Activity
In this activity, students will investigate gender equality and its relationship to critical global issues. They will be introduced to key issues in gender equality and women's empowerment, and will examine the global situation regarding equal rights for men and women. They will also review statistics on gender discrepancies in the United States and posit explanations for the persistent gender gap in key areas. Students will evaluate examples of initiatives led by Peace Corps Volunteers to empower women and promote gender equality in countries around the world. Finally, students will research the gender gap in a country of their choice and participate in a collaborative world forum to identify key global priorities for achieving gender equality.
Video
Travel to The Gambia with Peace Corps Volunteer Adrian Croke, who collaborated with groups of female oyster harvesters to improve the economic and environmental sustainablility of their work. Learn how the oyster women worked together to create a promising future for their families and their communities.
Video
Enjoy vivid scenes of Nigerien girls and women as they work and live in their village, learn about health and nutrition, and play American games during Peace Corps Volunteer Vivian Nguyen's Girls Leading Our World camp.
Video
Meet the women of Peace Corps Volunteer Liz Lowe's rural Costa Rican community and learn about their important and diverse roles as mothers, grandmothers, entrepreneurs, athletes, and community leaders.
Featured Themes