Foreign Language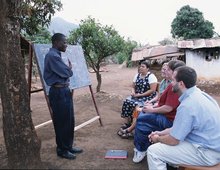 Understanding a foreign language can be fun as well as challenging. It is also an important skill needed by Peace Corps Volunteers to integrate into their communities. Use World Wise Schools resources to learn basic phrases and greetings from some of the countries where Peace Corps Volunteers serve.
Lesson Plan
This lesson is a brief presentation of the spoken Arabic language and some cultural behaviors in Jordan. With the help of the enclosed interactive language digital audio files, you will be able to hear, pronounce, and become familiar with the sounds of Arabic.
Lesson Plan
Mandarin is the official language of the People's Republic of China. It is the dialect spoken in the capital, Beijing. It is taught in all schools and is used for television and broadcast. Almost the entire population understands Mandarin. The language taught in pre-service training for Peace Corps trainees going to China is Mandarin.
Lesson Plan
Bamabara is the language of people of the Bambara ethnic group and is a language spoken in Mali, as well as Burkina Faso and Senegal. This lesson is a brief presentation of the Bambara language in Mali, where it is spoken by roughly half the population.
Lesson Plan
Students will examine how the author confronted the challenges of a new language and a new culture.
Lesson Plan
Students will consider the immensity of the the task the author undertook to learn Chinese.
Audio
As a Peace Corps Volunter in Mali, Shawn Davis spent much of his time learning two languages, Bambara and Fulani. Read about his time in Africa and his efforts to learn how to communicate with his community.
Featured Themes