Global Issues: Environment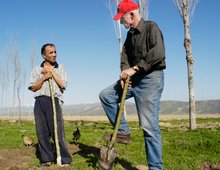 The survival of all living things and the well-being of all communities depends on the conservation of our natural environment.
Issues such as deforestation, habitat and biodiversity loss, overuse of natural resources, air and water pollution, and global climate change all pose challenges for communities across the globe. Learn how Peace Corps Volunteers are working on environmental problems and creating solutions that are critical to a sustainable global future.
Lesson Plan
Students examine how people can effectively bring about positive change in another culture, focusing on the introduction of ventilated stoves in Nepali homes.
Story
Read about Peace Corps Volunteer Nina Porzucki's experiences with teaching Romanian children the importance of recycling.
Activity
Research a variety of environmental concerns and investigate their local and global relevance. Through several Peace Corps Volunteers' stories, students will see examples of communities around the world are working to address environmental issues. Students will conduct research on environmental issues in their own communities and suggest actions for addressing local environmental priorities.
Photo Gallery
Look through our step-by-step instructions and try your hand at building your own structure from plastic bottles and trash!
Video
Peace Corps Volunteer Laura Kutner reflects on the value of engaging in service as a community, as they construct classrooms from bottles and trash found around their town in Guatemala.
Audio
In Peace Corps Volunteer Joan Heberger's community in Honduras, coffee is the main source of income for many families. Hear about Joan's conflicting feelings about the environmental impact of an industry that keeps her community alive.
Featured Themes