Global Issues: Environment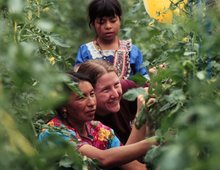 The survival of all living things and the well-being of all communities depends on the conservation of our natural environment.
Issues such as deforestation, habitat and biodiversity loss, overuse of natural resources, air and water pollution, and global climate change all pose challenges for communities across the globe. Learn how Peace Corps Volunteers are working on environmental problems and creating solutions that are critical to a sustainable global future.
Lesson Plan
Students examine how people can effectively bring about positive change in another culture, focusing on the introduction of ventilated stoves in Nepali homes.
Lesson Plan
This lesson is divided into two parts. The first section is intended for classes that are being introduced to the topic of soil erosion. This section consists of a variety of activities developed by the Chesapeake Bay Foundation and the National Geographic Society. These activities will help develop a foundational understanding of soil erosion. The second section allows the students to explore the issue of soil erosion in Guinea through a narrated slide show. Steve Jacobson, a former Peace Corps Volunteer, shares his experience and the different strategies Guineans are using to address soil erosion.
Lesson Plan
Students will investigate renewable energy, with a focus on using solar energy to produce electricity. After learning about how solar energy is produced, students will consider its environmental and economic benefits. Students will be introduced to Peace Corps Volunteer Katie DeWitt, who worked with her community in Costa Rica to implement a solar energy project. Using examples from Katie's slide show, Sustained by the Sun, students will describe approaches that made the project successful. They will then compare the Costa Rican project to a solar energy initiative in their own community or state.
Lesson Plan
Students will investigate just what a tsunami is, what causes it, how fast it travels, what it looks like, and its devastating effects upon landfall.
Lesson Plan
As fish populations plummet, Peace Corps Volunteer Tommy Schultz works with Filipinos to restore the sea life that the local people depend on for food. After watching the slide show, Protecting Philippine Reefs, students will recognize how intertwined human existence is with the health of ecosystems, identifying positive and negative impacts that people can have on their local environment.
Story
Read about Peace Corps Volunteer Nina Porzucki's experiences with teaching Romanian children the importance of recycling.
Activity
Research a variety of environmental concerns and investigate their local and global relevance. Through several Peace Corps Volunteers' stories, students will see examples of communities around the world are working to address environmental issues. Students will conduct research on environmental issues in their own communities and suggest actions for addressing local environmental priorities.
Photo Gallery
Look through our step-by-step instructions and try your hand at building your own structure from plastic bottles and trash!
Video
Peace Corps Volunteer Laura Kutner reflects on the value of engaging in service as a community, as they construct classrooms from bottles and trash found around their town in Guatemala.
Audio
In Peace Corps Volunteer Joan Heberger's community in Honduras, coffee is the main source of income for many families. Hear about Joan's conflicting feelings about the environmental impact of an industry that keeps her community alive.
Featured Themes