Eastern Europe and Central Asia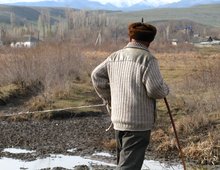 Eastern Europe and Central Asia host many Peace Corps volunteers looking to work in education, health, the environment, agriculture, and business. Through examples from countries like Macedonia, Uzbekistan, Georgia, and The Kyrgyz Republic, these resources educate students about the culture and history of this region.
Lesson Plan
Students will closely examine an author's philosophical look at life through superficially mundane, but ultimately meaningful, anecdotes he describes as a teacher in Uzbekistan.
Lesson Plan
Students will examine how the author tries to capture the reader's imagination immediately, through imagery—and hold on to it.
Lesson Plan
Students will look at their own culture and at Bulgarian culture to identify national, local, or ethnic traits, while at the same time attempting not to over-generalize about any particular group of people.
Lesson Plan
Students will find and appreciate that folk tales, a stylized genre of literature, tell more than stories; they convey morals or lessons. Looking into various aspects of this folk tale, students will also weigh the strengths of fate and consciousness.
Lesson Plan
Students will weigh the advantages and disadvantages of a state-controlled social system and look into the strains that occur in the transition of a state-controlled system to a democracy, such as that occurring in Macedonia.
Lesson Plan
Students take up the challenge of deciding what to do when confronted by a difficult and awkward situation.
Story
"Ivan the Fool" is told by Roseann De Rosa (Peace Corps Volunteer, Russia, 1996–1998). Roseann taught eighth-grade English at a public school in Yekaterinburg, in the Ural Mountains. "One day I asked the students to tell me a story they could act out. The students were laughing very hard as they told this tale," she reports. This story stresses the virtues of hard work and helping one another, especially when there is a problem.
Story
As a Peace Corps Volunteer in Kyrgyzstan from 2003-2005, Josh Priollaud worked in small business development and sustainability. Readers will encounter beautiful photos of the Kyrgyz Republic, along with Priollaud's experience developing new and sustainable ways of obtaining or raising food and running businesses.
Story
Many customs and traditions in Bulgaria are related to hopes for good health. RPCV Elizabeth (Vernon) Kelley describes her experience with such traditions in a personal story.
Video
By painting a large, colorful mural Peace Corps Volunteer Theo Davis and his artistic community members found an innovative and effective way to educate others about the importance of AIDS/HIV prevention. With a message of "Life is Wonderful" this mural shows that what is often a difficult subject to talk about can be expressed in a way that not only educates, but shows that life is full of hope and celebration.
Video
Follow Joshua O'Donnell's vast range of experiences as a Peace Corps Volunteer in the Republic of Georgia. Living on his host family's farm, he helped to grow lemons and harvest hazelnuts. As a teacher, he created a library and taught Hemingway. And as a community member, he helped to secure a water supply and celebrated at traditional feasts.
Featured Themes