East Asia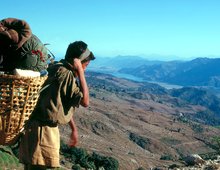 Volunteers in Asia play important roles in helping people address changing and complex needs in the areas of education, business, the environment, and health. Use these resources to get in touch with the culture and needs of East Asian countries like China, Thailand, and Sri Lanka.
Lesson Plan
Students will examine how individual Peace Corps Volunteers succeeded in adapting to their new cultural environments.
Lesson Plan
ESOL language proficiency level: advanced. In reference to China's burgeoning population, Returned Peace Corps Volunteer Matthew Scranton ponders the question, "Can you conceive of 1.3 billion anything? In this lesson, students will learn about place value, exponents and how there's a number amount for everything.
Lesson Plan
Students will examine the author's running race from two different cultural perspectives to see just how different the effects of culture can be.
Lesson Plan
After viewing a slide show from a Peace Corps Volunteer in China, students will use Peace Corps' Mandarin Chinese language lessons to develop their own food culture photo essay.
Lesson Plan
Students will examine and experience roles and customs of rural Mongolians through role-playing, and they will compare unfamiliar roles from Mongolia with everyday roles in the United States.
Lesson Plan
What constitutes a "good" job? And what defines integrity? Students will explore both questions in relation to Steve Iams's writings about the subjects.
Story
In a captivating and amusing account, the author shows just how challenging it is for someone to move to an unfamiliar culture and then deal with adjusting to the new environment.
Story
A personal essay written by Peace Corps Volunteer Noah Jackson about his experience working with sea turtles in the Philippines. Jackson discusses the importance of releasing sea turtles back into their habitats, as well as the difficulties that arise from cultural differences.
Story
Peace Corps Volunteer Steve Iams shares a short excerpt of his time in Nepal, describing the daily sights and sounds of the culture he experienced.
Activity
Som Tam, or Green Papaya Salad, is a very common dish eaten throughout Thailand. It originated in Laos and Issan, but now the whole country enjoys it.
Interview
Nancy and Ron Tschetter served as Peace Corps Volunteers in India from 1966 to 1968. Ron Tschetter would later serve as Director of the Peace Corps.
Video
Experience bullock carts, a weekly bazaar, life in India's caste system, and hard work in an Indian village decades ago. Nancy Tschetter recalls her Peace Corps service in a small village in Maharashtra, India.
Featured Themes